Taste elegant wines at Westside tasting room
Janell Dusi grew up surrounded by vineyards – as a farmer and winemaker of J. Dusi Wines, she hails from a legendary Paso Robles family. "I am fourth generation and now it's going into the fifth generation," Janell said.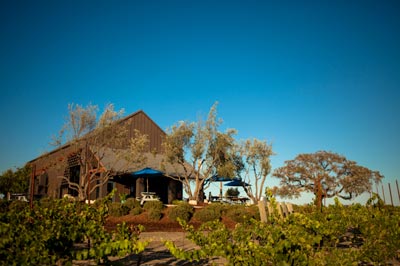 In the early 1920s, Janell's great grandparents, Sylvester and Caterina Dusi, immigrated from Northern Italy and planted some of the earliest Zinfandel vines on the Central Coast.
The 100-acre renowned Dusi vineyard on Paso's Westside has been a source of prized Zinfandel to such top notch labels as Turley, Four Vines and Ridge. In the 1950s, the Dusi family briefly bottled Zinfandel under its own label, noted Janell. While 90 percent of Dusi fruit is sold to the region's winemakers, Janell said she has access to 10 percent from the famed Dante Dusi Vineyards, named for her father.
J. Dusi's Devotion to winemaking
"I forged my own way I guess," said the winemaker who started making wines as a youngster. "At age 13, I entered a winemaking contest and got an honorable mention." She continued to work in the family's vineyards, but her passion was to produce her own wine. "It takes a lot of guts to quit your full time job," recalled Janell of when she decided to seriously devote her time to winemaking.
She did not get the choicest grapes from the family's Dusi vineyards. "My dad said 'see if you can sell the wine,'" Janell said. Marketing wine can be challenging even with the famed Dusi name. But her business model of distribution through wine club membership proved to be highly successful. Her initial production of 500 cases in 2006 has grown to 6,000 cases annually.
Flagship wines & more
The focus is on red wines at J. Dusi and there's just one white, a fresh aromatic easy drinking Pinot Grigio, popular with visitors to the tasting room. "It's a killer white wine and has a huge following, people buy it by the case," said Janell of this 3,000-case production wine. The fruit comes from Fossil Creek Vineyards purchased by the Dusi family eight years ago. "It was planted with old Dusi Zinfandel cuttings and in the middle was Pinot Grigio, so I tried it out and it's become the local wine of choice."
The flagship wine here is the Zinfandel from the famed Dante Dusi vineyards. In the tasting lineup, the food-friendly 2011vintage shows spice and soft tannins. The 2012, due to a warm growing season, is bold with lush fruit and higher alcohol content.
The red wine line-up includes, in addition to the signature Zinfandel, varietals such as Carignane, Syrah and the complex 2012 SLY, a blend of Grenache, Syrah and Tempranillo, and the 2012 Fiorentino, a blend of Zinfandel, Petite Sirah and Carignane. There are also a couple of dessert wines, Haute Blanc, a Grenache Blanc fortified with Brandy and a Zinfandel Grappa.
Janell's winemaking philosophy is quite simple – to make elegant wines. She recalls that as a kid she was allowed to drink a little wine. "It wasn't a big jammy Zinfandel," she said reminiscing that it was Old World style, a style she continues in her winemaking.
"I don't put too much new oak, no adding anything to get color and I'm not afraid to pick the grapes on the early side." The wines at J. Dusi reflect that personal touch and finesse.
J. Dusi Wines, located at 1401 Highway 46 West in Paso Robles, is open daily from 11 a.m. to 5 p.m. For more information, visit www.jdusiwines.com or call (805)226-2034.
-Mira Advani Honeycutt
comments