J&J Cellars

J&J Cellars of San Miguel is owned and run by the Judd family: James and Janis Judd and their children, James Judd and Juliet Judd Fiero. The elder James describes their family history as having a lot of cumulative experience in agriculture over numerous generations, "I come from five generations of farmers."
It was this farming experience that led the Judds to purchase the land San Miguel in 1980, and to plant orchards of apples and pears. James says that his family consists of citrus and grape growers in southern Utah. "My wife Janis and I came to California because we wanted to live here and the farming opportunities looked good." In addition to the fruit trees, they also raised cattle on the land.
The Judds' story continued into grape-growing when a large winey purchased an adjoining property in the 1990s. James says that the new neighbor's vineyard manager suggested that the soil and weather conditions of the Judds' property were ideal for a vineyard. After a family discussion, the Judds decided to plant a vineyard on their property.
This decision was rewarded with success, James says: "In 2001 when we had our first harvest, I took my grapes to a highly respected winery here in Paso Robles and they said the grapes were fantastic." The Judds continued to sell their grapes to several local wineries and their success inspired them to plant more vineyards on their property.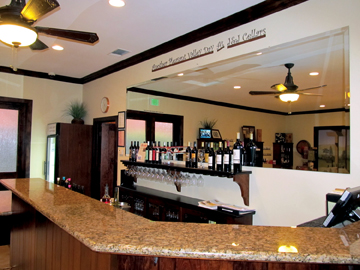 In 2008, the Judd family bottled some of their fruit under their namesake label, J&J Cellars. The Judds had lived in Texas for many years before coming to Paso Robles, and were introduced to the woman who would become their winemaker, Maureen Qualia, through their shared community there. Maureen graduated from CSU Fresno in 2007 with a master's degree in enology then worked in Sonoma for several years. "Maureen comes from a long family history of winemaking. Her family has owned their winery in Del Rio, Texas since the 1800's," said James.
J&J Cellars now grows Cabernet Sauvignon, Zinfandel, Merlot and Petite Sirah on their 80-acre estate vineyard in San Miguel as well as Barbera, Tempranillo, Malbec, Petit Verdot, Cabernet Sauvignon and a small amount of Orange Muscat in their vineyards in nearby Shandon. James says that J&J Cellars is best known for their Cabernet Sauvignon, Zinfandel, Barbera, Malbec, Merlot and Petite Sirah.
The Judds continue to thrive as farmers and still sell much of their grape crop to other wineries each year. Their annual production of grapes each year is around 500,000 tons. Of this they sell about 200,000 tons of grapes and 100,000 tons of bulk juice. Around 5,000 cases of J&J Cellars wine is made each year for the tasting room and wine club.
The winemaking philosophy that guides J&J Cellars is described by James in this way: "We know that the best way to make great wine is to grow remarkable grapes. We take pride in keeping our boots in the soil and making a hands-on effort to maximize the potential of our fruit."
James says of the experience that visitors can expect from a visit to the J&J Cellars tasting room, "Tasters will be met with warm hospitality, great humor. We will always strive to make your wine tasting experience the best – from the moment you open our door, you will know that we were expecting you!"
He continues to say of J&J Cellars, "With the expansive gentle rolling hills abundant with vines from every view, find a table and chair waiting just for you and begin to enjoy what we see every day. There is always music playing outside, plenty of picnic tables, bocce ball and horseshoes. We are dog friendly too!"
Visit J&J Cellars along the Pleasant Valley Wine Trail (www.pleasantvalleywinetrail.com) at 2850 Ranchita Canyon Road in San Miguel. More information is available at jjcellars.com or by calling (805) 467-2891. Hours are Friday – Sunday, 11am – 5pm.
—By Kate Joyce
Subscribe to weekly travel news
comments