We are excited about this opportunity to write about J. Lohr Vineyards & Wines as we have our own history with them.  We started frequenting the Paso Robles tasting room when we began dating about 4 years ago.  We've since become good friends with many of the people that work there, and have often joked that it was our neighborhood hangout since we once lived right down the road.  Walking into the tasting room and feeling like part of the family is a great feeling.  We have many awesome memories over the years, from tasting the great wines, to having fun with the wonderful employees, to attending the many club events.
We asked the J.Lohr Tasting Room Manager, Director of Winemaking, and Executive VP/COO of J. Lohr Vineyards a few questions and have their answers right here. We really feel that their voices not only provide the facts but also express the passion for what they do.
Up first, Diane Moreno, Tasting Room Manager:

M&A: What are your goals for the look and feel of the tasting room?
Diane Moreno: We strive to make each guest's experience a memorable one. Everyone who works at J. Lohr is really passionate about what they do, and many of us have been with the company a long time—which I think reflects that passion. At the same time, the setting is inviting and friendly. We don't think wine tasting should be intimidating. We want people to be relaxed, and to really enjoy exploring the many varietals that we offer.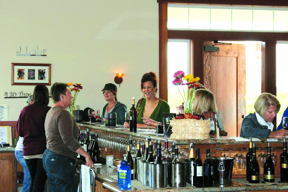 M&A: There is such a broad range of wines poured in the wine centers  How do you help customers find their way through the list?
Diane Moreno: Yes, we do have a broad range of wines.  We also understand that every palate is different. Our staff understands that, and they take the time to ask questions—to find out what a customer likes, and how familiar they are with our wines. We are then able to guide them through our list based on their interests and knowledge of our wines.
M&A: What is the best thing about your job?
Diane Moreno: Our customers!  It is very satisfying to meet individuals from all over the world who visit us because they know our brand to some extent. No matter how well they may know us, we are usually able to surprise them with something new when they visit our J. Lohr Wine Centers. It's a lot of fun to introduce longtime customers to new wines like J. Lohr Gesture, and to watch them experience them for the first time.
Jeff Meier, Director of Winemaking and EVP/COO of J. Lohr Winery
M&A: What is the case production for Reds/Whites?
Jeff Meier: Reds – 648,023, Whites – 393,316
M&A: How do you maintain quality and consistency through the years with such a large case production and so many varietals?
Jeff Meier: First, because we own and farm such a large percentage of vineyards supplying fruit for our wines, we have a consistent source of grapes with our input and management.  This sets a solid foundation for consistency and quality each year.  Our staff in the vineyards and winery has many years of service with J. Lohr, and this knowledge of vineyards, winemaking history, and gradual evolution have maintained style and consistency – though with subtle improvements.  Finally, we employ an army of interns during each harvest that are well-trained to monitor very specific winemaking and/or laboratory tasks to ensure nothing is overlooked during the craziness of harvest.
M&A: In a few words, how would you describe your winemaking style?
Jeff Meier: For whites, balance of fruit, weight and acid for all, and the elegant addition of barrel for Chardonnay.  For reds, plump, rich and soft, with varietal-specific fruit character made more complex with barrel toastiness.
M&A: What is the best thing about your job?
Jeff Meier: Two things.  First, being in a restaurant and seeing someone order and enjoy a bottle of J. Lohr wine brings me tremendous pride and satisfaction! And second, the lack of routine in my job is great!!  I am spending time outside in vineyards, in the wineries thinking about ways to improve our wines, working on spreadsheets in my office, traveling to promote the winery, meeting with ownership, talking with winemaking peers, staying current in new trends and education – all with the goal of creating evermore flavorful, elegant wines under the J. Lohr label!
Last but not least, Steve Lohr EVP/COO of J. Lohr Vineyards:

M&A: How would you describe your family's approach to making wine from a business perspective?
Steve Lohr: Our family's approach to making wine begins with the strength of our vineyards and appellations.  We spent years choosing the right locations for our vineyards (Arroyo Seco – 1972, St. Helena – 1985, and Paso Robles – 1986), and decades refining our grape growing and winemaking techniques.  We grow our grapes and make our wines with the same attention to detail that a small vineyard or boutique winery would.  Over the years we have learned how to scale these operations to allow us to grow to where we are today.  We believe in traditional winemaking techniques (we age our wines in over 50,000 French and American oak 225 liter barrels), yet we employ the latest technology, such as individual berry sorting machines and instruments in the vineyard such as pressure bombs, which measure the water status of a vine, allowing us to develop the best possible flavor in a grape by delivering no more or less water than the vine really needs.  
Recognizing that there are many fabulous wines made in California and around the world today, we work hard to cultivate our relationships with distributors, retailers, restaurateurs and consumers in order to sell our wines.  In this economy, value and a great experience are more important than ever.  The pricing of our wines is not based on what the market will bear, but on our actual costs.  We would rather limit the distribution of a wine that is in strong demand, such as our Seven Oaks Cabernet Sauvignon, than artificially raise that price to control demand.  As a family-owned winery, we are less concerned with short-term profits than we are with long-term brand building and fostering loyalty among our consumers.
M&A: What's the best part of your job?
Steve Lohr: As much as I enjoy vineyard development and management, and the sales, marketing and financial aspects of producing wine, the part of my job that I most enjoy is direct contact with consumers.  I love sharing what makes wine so fun and interesting with someone who is new to drinking wine, as well as discussing the nuances of soil fertility or tannin management with a person who has more experience with wine.  Similarly, I enjoy advocating for the California wine industry as a whole (as a director of Wine Institute), and specifically, for the appellations in which we grow our grapes—primarily Arroyo Seco and Paso Robles.  One of the reasons that I served three terms as Chairman of the Paso Robles Wine Country Alliance (a marketing organization that promotes the wines and grapes of Paso Robles) is that I get as much of a kick from seeing my fellow vintners and growers succeed as I do from having J. Lohr do well.  Once a consumer has had the opportunity to try a wine from Paso or  Monterey County, his or her wine buying preferences are usually forever changed, and that's good for all of us!
While it can be difficult to imagine that a winery that produces over one million cases of wine each year could still be family run, J. Lohr is that winery.  What started as a family business has grown to a large family of staff, from the tasting room, to the vineyards, to the winery, where they've been handcrafting our wines with the same dedication and passion all this time.
Please join us while we to take this opportunity to personally congratulate the entire J. Lohr organization for winning Wine Enthusiast Magazine's 2010 American Winery of the Year Award!  What an honor!  
— Matt & Annie Browne
www.hootnannieblog.com
comments