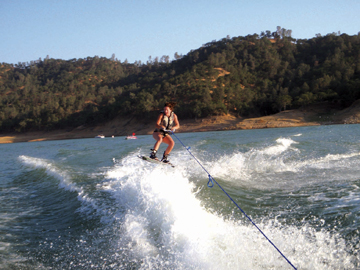 Water ski, jet ski, kayak, fish, camp
Come enjoy a perfect recreation and relaxation spot for visitors and residents. Thanks to excellent rainfall this year, Lake Nacimiento is nearing capacity.
In addition to a newly completed spillway, the lake resort has a new parking lot, ranger station and a marina with several new improvements. It is a stabilized marina with wider walkways, a protected fuel dock, marina store, boat slips that are wider and longer then before, three ADA boat slips, a 6-foot-wide by 80-foot-long ramp and restrooms on the dock.
There is abundant wildlife including bald and golden eagles. If you are lucky to spot one of their several nesting sites high up in the trees you are in store for a great treat. There are deer and cattle aplenty, if bird watching is of interest there are dozens of known birds in the area including great blue heron, western bluebird, American goldfinch, and several species of humming bird.
Navigating the lake's 165 miles of shoreline includes mountains, canyons, caves, and waterfalls. Several coves on the lake include Snake Creek which is the tamest next there is Dip Creek which is home to the slalom course, it is the most family friendly area to day beach at, followed by Tables Creek which gets packed and islands of boats lashed together are not an uncommon site nor is the floating DJ that converted an old pontoon boat into what looks like a floating speaker.
Further down the lake several coves form what is locally known as the narrows, a very long windy narrow part of the lake that is a no wake zone. The narrows are a favorite spot to let the kids float behind in a tube or simply in their life vests or to just take a siesta.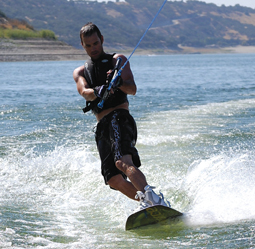 The resort can assist in any or all of these activities with rentals of fishing boats, pontoons, wakeboards and ski boats, kayaks or canoes by the hour, half day or for a full day of fun, rentals start at $20 and go up to $500 depending on craft and length of rental.
The Dragon Grill restaurant opens for the season from mid-May to mid-September. The local favorites that always sell out are the lasagna and the skirt steak. Movies are shown right next to the grill on Friday and Saturday nights and is free for those who are at the resort.
The resort offers biking, hiking, horseshoe pits, volleyball and basketball and a pool. There are 350 camping and RV sites and RVs, trailers and mobile homes for rent by the night or by the week, as well as condos in the Lakeview Lodges, which sleep up to 14. Camping/lodging rates start as low as $25 and go to $440 nightly. There is a general store with friendly staff to help out if you need something that you forgot or just simple supplies and snacks.
Fees for day use start at $12, boating fees are $6 daily and fishing licenses start at $13.40 for one day; recreation on the lake includes boating, skiing, and a slalom course thanks to the Far West Water Ski Club, wake boarding, and fishing for the lakes numerous White Bass. The lake is popular for both visitors and locals, it gets extremely busy on the holiday weekends. If you head out there during the week you'll have it more to yourself also if you want to avoid the crowds head out early in the day.
For reservations or more information, call (805) 238-3256 or http://www.nacimientoresort.com/ Slalom course info http://www.farwestwaterski.com/default.html
The resort is located at 10625 Nacimiento Lake Dr., Paso Robles. To get there exit Highway 101 at Highway 46 and head west through Paso Robles. In the city, you will be on 24th Street and when you leave the city, it will turn into Nacimiento Lake Drive. You will then turn right on Nacimiento Lake Dr. and will turn left to get into the park and resort area. It is a 20-minute drive from Paso Robles.
— Ryan Paine
Subscribe to weekly travel news
comments