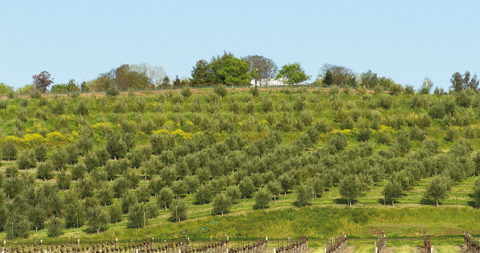 The Terrace Hill Olive Company began in 2000, when Uwe and Martina Henze purchased their beautiful property on the Pleasant Valley Trail just outside of Paso Robles.
Unlike many local farmers, they purchased the land to plant olive trees with wine grapes as an after thought. Today the five Tuscan varietals of olives are used to make oils that consistently win gold medals – four have been won already this year.
The 1,600 olive trees were planted on the hillside surrounding the Tuscan style home and tasting room. You may feel a little like you escaped to Tuscany when you pull into the circular drive for a tasting.
Uwe, originally from Germany, was an executive chef so it is not surprising that he did not stop after producing an award winning extra virgin olive oil. Knowing that people like a touch of something in their oil, he created a line of flavored olive oils: "A Touch of Citrus", "A Touch of Tuscany", "A Touch of Rosemary & Garlic" and "A Touch of Basil".
The culinary delights do not stop there – you will also find meat rubs, seasonings, herbs, gourmet vinegars and estate grown Zinfandel. The Henze's follow sustainable farming practices and you will not find any fillers or MSG in their products. They deliver wholesome, culinary delights for those who enjoy cooking at home.
In addition to the tasting room, you can find their products along with recipes on-line. A very fun way to receive their products on a regular basis is to join the Olive Oil Connoisseur Club. Members receive 15% discount on all purchases, three shipments a year containing olive oil, spice rubs, herb blends and best off all new recipes from Uwe. Once a year the club members all get together at Terrace hill for a members only Paella party.
Be sure to stop by and say hello to Martina and Uwe in the Paso Robles Park on Saturday, August 21st during the Olive Festival.
Subscribe to weekly travel news
comments