Lighting Ceremony
November 29 –
Broken Earth kicks off its holiday season with a lighting ceremony showcasing a dramatic display of lights and decorations. The family evening offers photos with Santa, barrel room tours and plenty of good wine to get into the holiday spirit.
Extensive wine list & abundant tasting menu
Grab a glass of wine or a bottle, order delicious salads and small bites, kick back and take in the beauty of Broken Earth Winery's scenic grounds.
At Broken Earth you will experience more than just wine tasting – the expansive Mediterranean style tasting room is also a cafe and market place filled with delectable gourmet products. The cafe menu ranges from cheese pairings to freshly prepared salads and Panini with suggested wine pairings.
A Pinot Noir is paired with the Italian grilled Panini, a Chardonnay with the vegetable cucumber salad, Petit Sirah with the Greek bow tie pasta salad and Grenache Blanc with a colorful strawberry pecan salad.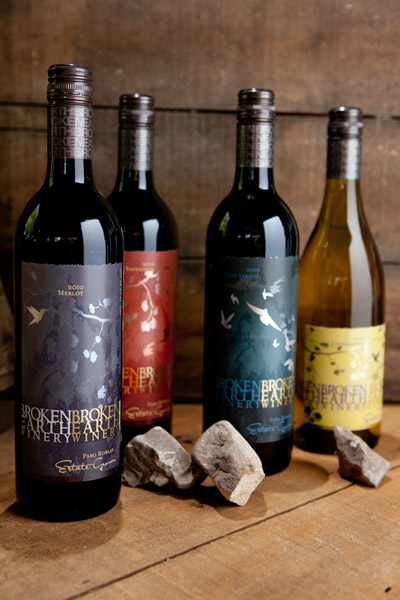 Winemaker Chris Cameron
Rancho Tierra Rejada, Spanish for "land of broken earth," is the original name of the 2,500-acre Broken Earth ranch located by Estrella River, east of the tasting room. "We have 520 acres under vine," says Chris Cameron, the winemaker who hails from Australia's Hunter Valley. He joined the Broken Earth team in 2010.
The wine list here is extensive and there's plenty to choose from at the tasting counter. "We've developed a range of wines called Pull, Quadrant and our national brand Broken Earth," explains Cameron.
Then there's the Direct to Consumer series available in the tasting room or through the wine club. The wines are bottled under the Broken Earth Limited Release and Reserve series and made from selected vineyard parcels and in small production.
Well balanced, richly textured wines
Cameron crafts wines that are well balanced and richly textured. The Pull series includes Merlot, Cabernet Sauvignon, Chardonnay and a lively Rhône blend – easy drinking wines that show expression of bright fruit and balanced acidity.
The luxurious wines in the Quadrant portfolio include the Bordeaux blend Platinum; Copper, a Rhône blend; and Gold, an aromatic blend of Chardonnay, Viognier, Pinot Gris and Albariño.
Cameron enthusiastically lists numerous awards garnered by Broken Earth from various national wine competitions. But he is especially proud of the Silver award given by London's prestigious International Wine & Spirits competition to Broken Earth 2010 CV Cabernet Sauvignon. "That was the highest point for Paso Robles in that competition," says the veteran winemaker who's been making wine for the past 38 years.
Although Broken Earth produces various Rhône-style wines, the popular ones are its flagship Cabernet Sauvignon, Merlot and Chardonnay. Cameron feels that people are still not quite familiar with wines such as Syrah, Grenache, Mourvédre and Viognier. So as members of the Rhône Rangers group, Broken Earth showcases different Rhône varietals each month – check the website listed below for dates and times for special events and pouring. Broken Earth accommodates parties for up to 50 people in the adjacent cafe while the spacious gardens are ideal for weddings and bridal showers.
 Broken Earth Winery, located at 5625 Highway 46 East in Paso Robles, is open daily from 10 a.m. to 5 p.m. For more information, visit www.brokenearthwinery.com or call (805) 239-2562.
 – Mira Advani Honeycutt
comments