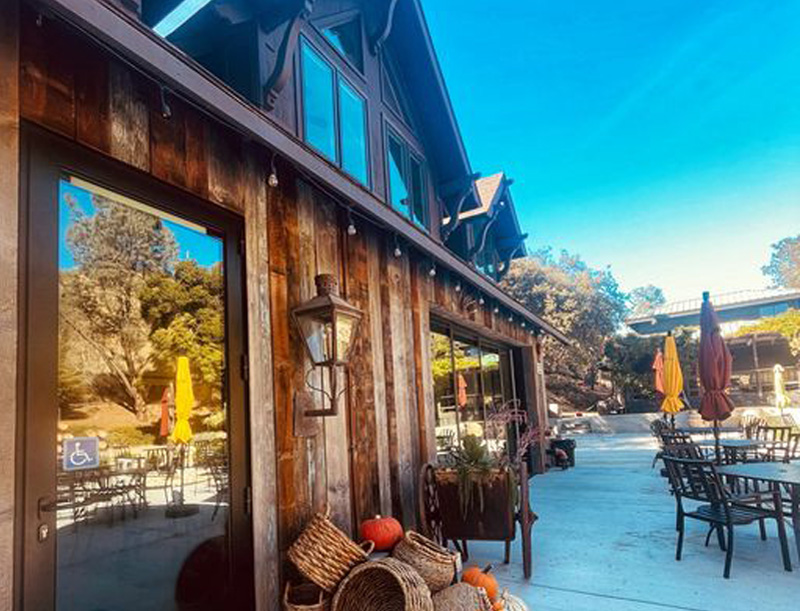 Enjoy great wine with playful names in a magical place
—Pacific Avenue heads west from the south end of downtown Paso Robles. As it reaches the city limits and curves uphill, it becomes Peachy Canyon Road. The road is lined by with oak groves and vineyards.  A quick half-mile beyond town appears an inviting winery on the left hand side. The facility is new, but the winery has been an outstanding part of the Paso wine scene for many years.
Over a quarter century ago, Michael Dilsaver and Philip Krumal met in Southern California through a shared interest in wine. Their friendship grew and they decided to make wine together. They established Asuncion Ridge, starting with a vineyard of Pinot near Atascadero and produced their first vintage in 2005. In the years that followed Asuncion Ridge has grown significantly: acquiring new vineyards, sourcing grapes from all around Paso; producing a broad range of varietals; winning awards and accolades from the wine community.  Still, Michael and Philip have maintained a boutique, craft style, only producing about 2000 cases per year.
They approach wine with patience and care, believing in keeping wines long in the barrel. The result pays off in exceptional wines with balanced flavor and smooth oakiness. They also have playful senses of humor, naming their Syrah 'Nefarious' and their Rhone blends 'Salacious' and 'Lascivious.' On a less scandalous naming trend, there are also a couple red blends named after their dogs, Olivia and Benton. No matter the name of the wine, the quality is outstanding and the prices are very reasonable.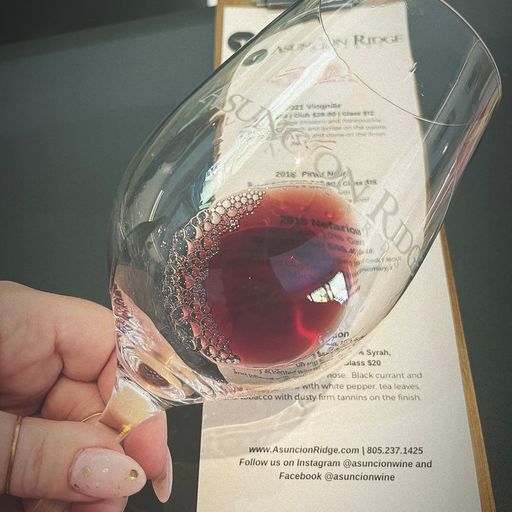 In 2020, Michael and Philip purchased an 11-acre former vineyard less than two miles from the center of town. After investing substantially in rehabilitating the buildings and improving the grounds, the new property and tasting room opened at the end of 2021.
The tasting building is a repurposed barn filled with chic furnishings. One wall is lined with black and white framed portraits of some of Paso's most influential wine makers who have been friends and mentors to Michael and Philip, a reminder of the collaborative spirit that infuses the local wine community. The attached patio is just one of several outdoor seating spaces. Massive oak trees magnificently shade other seating clusters. During the warmer months they have hosted live music and offered charcuterie plates and there is a lawn space that could host larger events like weddings. They also provide the opportunity to stay in the rustic farmhouse on the property in a newly remodeled two-bedroom/ two-bath house.
The feel is very country, with a sense of intimate seclusion amidst the oaks and the vineyard. Yet the location just outside of town makes for an easy trip back to a restaurant for dinner, grab a coffee or shop for cheeses to go with your newly purchased Asuncion wines. Through this combination of quality wine, relaxed ambience and convenience, Asuncion Ridge has created a magical space that allows all of us to share in Michael and Philip's wine country dream.
Asuncion Ridge Vineyards is located at 1525 Peachy Canyon Road in Paso Robles. Open daily from 11 a.m.-5 p.m. and reservations are encouraged. Both indoor and outdoor seating are available. Closed on major holidays. For more information visit asuncionridge.com or call (805) 237-1425.
—Katherine McMahon
comments