San Luis Obispo Country Club
Highly rated on both Facebook and Golf Advisor, as well as maintain a 4.7 out of 5 stars on Google Reviews, the San Luis Obispo Country Club would appeal to any passing visitor to San Luis Obispo County in California. But for locals, the country club is no hidden gem. Its rolling green lanes have been a staple for many community members since it was established in 1957.
Thanks to the temperate climate of central California, the putting greens aren't seasonal like many courses in North America. The course is 160 acres and 18 holes, lined with bright kikuyu grass that regularly attracts PGA golfers and local players. And while the country club offers a variety of amenities that are 'par for the course' with an exclusive, members-only lanyard, such as pools, activities center and even bocce ball courts, many locals know SLOCC for its marvelous views and the annual events that draw in hundreds.
It's no surprise that, while the country club hasn't hosted an official PGA tournament, they do cater to PGA professionals and amateurs through a variety of tournament sponsorships. For example, in Fall of 2019, SLOCC hosted the Straight Down Fall Classic Tournament, a golf event that is designed to attract golfers to the central coast of California as well as support charities. Last year, Fall Classic champions were Brandon Harkins and Tony Verna, alongside Club Pro Classic champions Scott Heyn and Corby Segal. However, many local golf pundits associate a different name with the courses at SLOCC: Loren Roberts.
An SLOCC Sponsorship
A San Luis Obispo native, Loren Roberts is also no stranger to the world of golf. Born in 1955, Roberts became a professional golfer in 1980—but he couldn't have made that journey alone. Though he dreamed of more, Roberts worked for years as a professional assistant golfer at San Luis Obispo Country Club, which regularly attracted professional golfers. Through hard work and familiarity with those at the club, Roberts was able to fundraise $30,000 to cover his first year of expenses as a professional golfer.
Without the help of those at SLOCC, Roberts wouldn't have been able to break into the PGA world to compete in his first-ever PGA Tour, in what was known then as the 'PGA Tour of Australasia'. But that wasn't the end-and-beginning for Roberts in his career as a professional golfer. Though he competed and improved throughout the 80s, Roberts didn't take his first PGA Tour until 1994 when he placed second in the US Open.
Though his career has taken many turns, Roberts has never forgotten his first years at San Luis Obispo Country Club. The pro-golfer has continually returned to his hometown and the putting greens that launched his career, participating in the Straight Down Fall Classic when it returned in 2019. Of this, Roberts had to say, "I feel very close to this club. They sponsored me right here out of this club, and they got me going on the tour."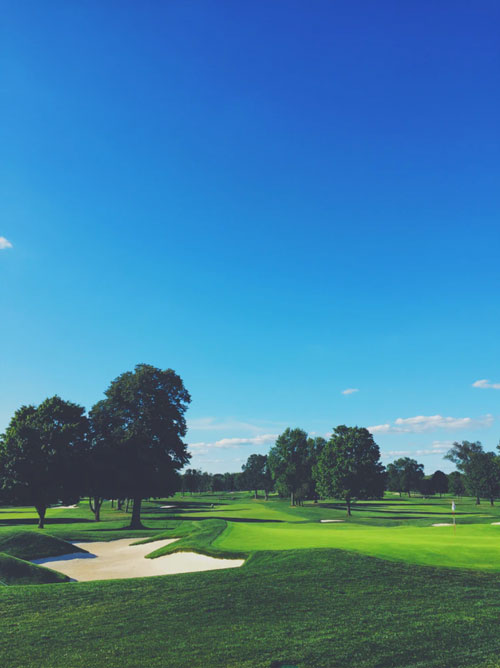 A Legacy in the PGA & Advocacy
Roberts has had a long history with the PGA—forty years of history, to be exact. His nickname 'Boss of the Moss', bestowed by fellow golfer David Ogrin, rightfully portrays Roberts for his specialty: putting. Over the course of his career, these skills would help him to win 8 PGA Tours and 11 PGA Tour Championships. At one point, Roberts was ranked in the Top 20 world ranking, in 11th place as of February 11, 1996.
However, Roberts participation in major PGA championships never resulted in a first-place title win. He placed second in the US Open in 1994 and third in the Masters Tournament in 2000. Despite this, the decades he spent on the putting green have undoubtedly given him insight into this year's tournament in April, especially considering Roberts has made four Championship wins in the PGA Senior divisions since 2005. If his moniker 'Boss of the Moss' signifies anything, he may be rooting for putting specialist Jordan Speith to take this year's Masters Tournament, though many pundits have their eye on Rory McIlroy, who is the current favorite in the US Masters winner betting odds.
There's been no word yet on who Roberts has pegged for this year's Masters Tournament, nor the PGA Championship set for May at Harding Park in San Francisco. In fact, today, Roberts focus on golf has taken a different turn, but that didn't break up Roberts from his long-time love of golfing.
In the same year he was diagnosed with a terminal illness (2017), Roberts headed down to Hualalai in Hawaii to play the opener of the PGA Tour Champions golf tournament. He placed 32nd, flew home to Memphis, Tennessee, and then underwent surgery to treat his illness. The next year, Roberts was back on the putting greens for 2018's first PGA Champions Tour event, the Regions Tradition, which he won back in 2005. Talk about dedication.
The ups and downs of a storied, forty-year career like Roberts' are what many fans adore about the sport of golf. Following Roberts career in the PGA Tour, he moved seamlessly into the senior league of the PGA, known as the PGA Champions Tour. Roberts claims that he's signed more autographs as a senior golfer than he ever did as a professional in the PGA. He's also been invited to a variety of golf tournaments that center around charity, especially concerning research for illnesses. Roberts is always looking to give back to the community, as is evidenced in his return to SLOCC for the Straight Downs tournament hosted in Fall of 2019.
Though he hasn't won in the PGA Tour Champions since 2012, Roberts has no qualms about enjoying his time on the greens without expectation. Like fellow golfers who have survived illness, such as Andy North and the legendary Arnold Palmer himself, Roberts has been open about his experiences and how golf can add to a therapeutic recovery.
The hardest part for Roberts? He says it was sitting around for six weeks following his surgery. Though, admittedly, he began 'putting around' around week three, eager to get to his backyard and get his clubs out—just like any Boss of the Moss would.
comments