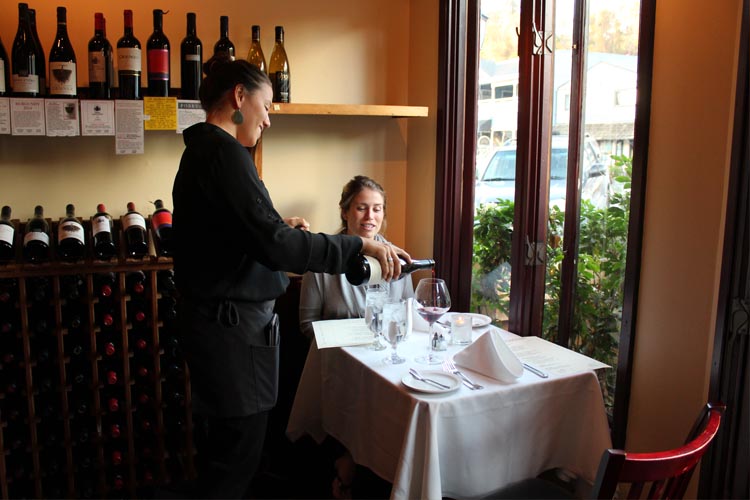 Friendly staff is knowledable about their wine offerings, French American menu
–Nestled amongst lush green forest and salty Pacific ocean air lies Cambria, California, a popular overnight destination by travelers en route to Hearst Castle and Big Sur. In recent years, Cambria has also become known for its local wine tasting and fine cuisine. Madeline's Restaurant and Wine Shop, located in the heart of Cambria, has been a favorite place to wine and dine by locals and visitors alike since opening their doors in 2002.
Madeline's dining room is open yet intimate and offers a romantic setting perfect for taking your honey out on date night or enjoying a small family gathering. The friendly staff is very knowledgeable about their wine offerings and each dish on their French American menu.
The wine shop showcases over 75 wines from local vintners, many from the booming Paso Robles wine region. Many wines are sourced from small-batch local wine producers who only offer their wines to a limited number of retail locations, and Madeline's is one of them.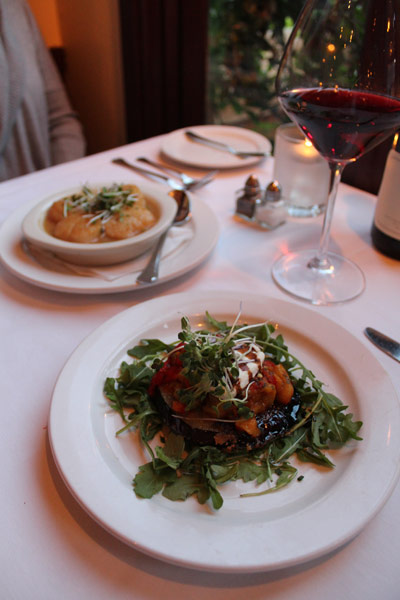 Cuisine offerings include appetizers such as buttery, melt in your mouth Diver Scallops prepared with mushroom duxelle and a classic French buerre blanc sauce. Their beautifully stuffed chicken breast served with candied walnuts, brie cheese and spinach with a sage brown butter sauce, scalloped potatoes and fresh local vegetables is a must try. For dessert, try the chocolate truffle mousse cake prepared with dark chocolate truffle and milk chocolate mousse over a butter walnut crust.
Owner David Stoothoff was a corporate trainer for several large chain restaurants for many years until 2002 when he decided it was time to start a venture of his own. Madeline's originally open it's doors in the available restaurant space inside an existing wine shop. Several years later, in 2011, Stoothoff purchased the wine shop and expanded his businesses by offering daily wine tasting and the Big Red Wine Club to local residents and visitors.
The Big Red Wine Club at Madeline's Wine Shop features hard to find reds of the Central Coast. Members receive four shipments annually which include red wines from a variety of wineries in the local area and enjoy discounts on cases throughout the year. In addition to their extensive selection of wines, the wine shop offers beautiful stemware, decanters, dried sausage and cheeses.
Madeline's is also proud to support local artists and regularly features local artwork throughout the restaurant available for purchase.
Madeline's Restaurant is located at 788 Main Street in Cambria. They are open daily for dinner, Monday – Sunday from 5-9 p.m. For more information call (805) 927-4175.
–Veronica Rains
Subscribe to weekly travel news
comments