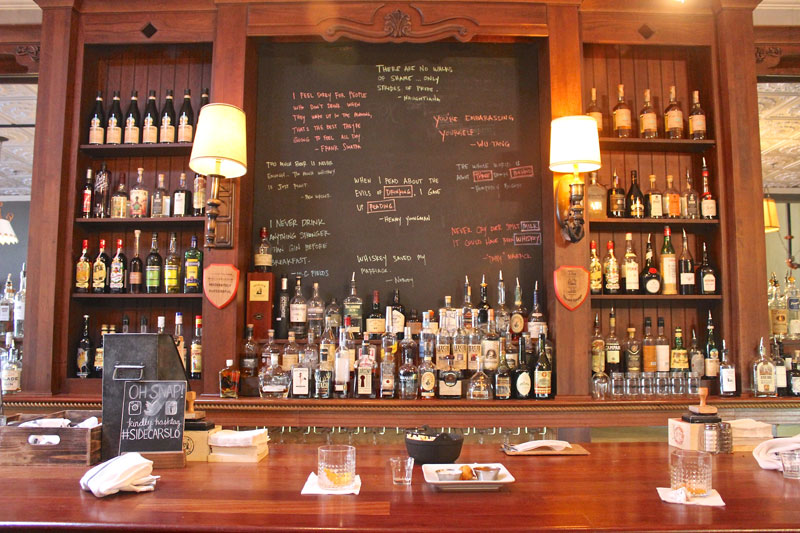 –The Sidecar Cocktail Company, San Luis Obispo's downtown favorite for great food and drinks with friends, for date night, and for just hanging out and chatting with other friendly patrons is just getting better. Dinner, served Wednesday – Saturday starting at 4 p.m. and Saturday and Sunday brunch, are completed with your choice of cocktails with exotic names and ingredients.
The bar offerings are highlighted by the cocktail menu featuring unique spirits and house-made ingredients such as bitters, tinctures, shrubs, syrups, and garnishes. Their craft cocktail program is unique on the Central Coast and the food is not to be missed. Dine in or order food and cocktails to go and don't miss Tiki Thursday!
Cocktails to go are pre-made and available from the small market at the restaurant. A 16 ounce packaged cocktail serves four to five adults, depending on your preparation and glassware. Sidecar favorites like The Sun Never Sets on the British Empire and The Cure come with directions for mixing and pouring.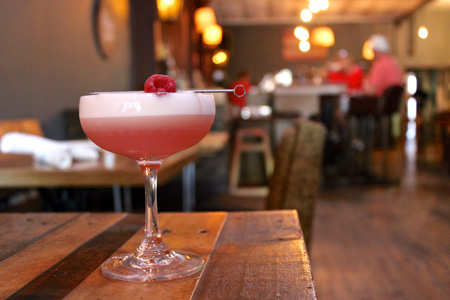 Check out the dinner, brunch and cocktail menus online. Dine-in or order to pick up. Food and cocktails can be picked up from 4-8 p.m. Wednesday through Saturday. Must be 21 and show ID to pick up cocktails.
The dinner menu has something for every taste and weekend brunch includes breakfast and lunch dishes. Sundays feature several ongoing cocktail specials as well as an automatic discount on all food for service industry employees.
If you are visiting, be sure to be in town for Tiki Thursday. Along with a take home Tiki Mug, you have your choice of Tiki classics like the Singapore Sling, a cocktail with roots from the Raffles Hotel at the turn of the century. The Sidecar Cocktail Company version mixes Royal Gate gin, Cherry Heering, Benedictine, lemon, seltzer, Angostura and orange bitters.
Sidecar was already popular destination in downtown San Luis Obispo when co-owner Josh Christensen went to work there in 2012. When the opportunity came to purchase Sidecar, Josh partnered with his brother Jeremy and friend Chris Lee and took ownership in 2014.
The staff is top-notch and takes excellent care of you. They are always eager to share their passion for food, drink and hospitality. "We have a wonderful staff made up of very authentic and passionate individuals. They take great pride in being knowledgeable about their crafts and do a wonderful job of connecting with our guests," said Josh.
The owners and staff have created at a family at Sidecar that cares about one another, their guests and the community. Giving back to the community includes working with SLO Food Bank, SLO Tease (a local burlesque troupe who donates all the proceeds from Sidecar bar sales at their events to support both RISE and the local chapter of the Cancer Support Community), CASA, The Girl Scouts of America, and other causes.  As much as they care about quality food and drinks, people come first at Sidecar.
"We want to stir things up for the betterment of our community and greater culture," said Josh. "We don't claim to have invented anything, but whenever we can, we look for ways to strike out on our own path and to offer creative and unique offerings in both food and drink, and we strive to do so with candor and passion. "
Sidecar's sister event venue the Penny opened in early 2019. Situated in the heart of downtown at 664 Marsh Street, the Penny is a unique event venue with an open floor plan, industrial indoor space and outside courtyard. Available for weddings, receptions, parties, corporate events, photo shoots, production, and workshops.
Sidecar Cocktail Company, located at 1040 Broad Street in San Luis Obispo, is open Wed-Fri from 4 p.m. until closing; Sat-Sun 2 p.m. until closing. No reservations, patrons are served on first come/first serve basis. To place online orders call (805) 439-3563. For more information visit www.sidecarslo.com or email info@sidecarslo.com.
comments