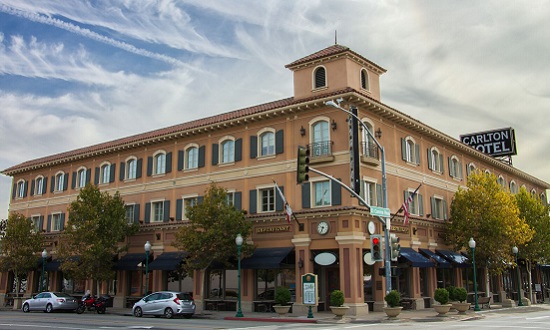 Nautical Cowboy's dishes are cooked with care and precision, with a team lead by Executive Chef Thomas Drahos. Organic, local and seasonal, the menu is typically changed monthly. Chef Drahos and his staff have fun with food, doing all their own curing, smoking fermenting and pickling for your enjoyment.
Based at the historic Carlton Hotel in quaint downtown Atascadero, the Nautical Cowboy is the creation of owner David Weyrich, who decided that a hotel-run restaurant would serve as a go-to dinner spot for locals and visitors alike.
Hungry visitors to Atascadero can enjoy an excellent meal at the perfectly named Nautical Cowboy. Located in the historic Carlton Hotel, the restaurant features excellent juicy steaks and sustainable seafood served in the second level courtyard or at the outdoor bistro tables surrounding the restaurant, or order to go. Check out the menu at www.nauticalcowboy.com and place an order for pick up or for delivery by one of several popular delivery services.
Due to COVID-19 restrictions on indoor dining, the Nautical Cowboy is currently serving a feast of barbecue items to go. Popular options include Santa Maria Style tri-tip, pork ribs, and fried chicken with lots of fixing's. There are options for single plates and family-style meals.
The Carlton was originally built in the early 1920s with a history of hosting many different businesses over the years. After several years of renovations and restoration, the Carlton Hotel reopened in 2005. Stay at the family-owned and operated hotel, wake up and try their on-site bakery, and enjoy dinner at Nautical Cowboy. The hotel is within miles of over 300 world-class wineries. Any visit to Atascadero is incomplete without seeing the beautiful downtown area along El Camino Real, which passes City Hall, built in 1918. See the many shops, pubs, and boutiques, which are reminiscent of days long ago.
The Nautical Cowboy, located at 005 El Camino Real, Atascadero, is open for BBQ lunch Thur-Sat noon-2 p.m.; dinner Wed-Sat 5-9 p.m. and Sunday brunch from 10 a.m.- 2 p.m. The restaurant is closed Mon and Tue. For more information call (805) 461-5100 or visit www.nauticalcowboy.com.
comments