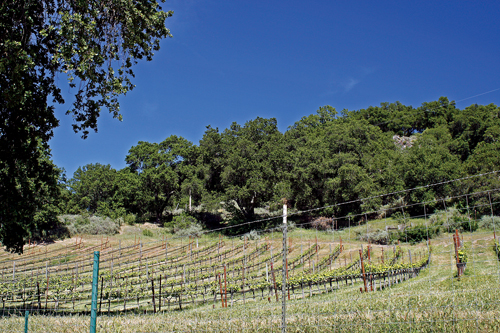 Adelaida Cellars started by Van Steenwyk Family and John Munch
If you drive down Peachy Canyon Road and look up at the hillside you will see vineyards. Travel up Vineyard Road and across Adelaida Road and you will see acres and acres of walnut trees. You will come upon a drive up a hill to a winery tasting room with walnut trees on one side and a vineyard on the other. You have arrived at Adelaida Cellars.
Celebrated author of children's books, Elizabeth Van Steenwyk, and her family are owners of the vineyards and the winery. In 1970 they purchased Hilltop Ranch on Adelaida Road where several hundred acres of walnut trees were growing. They added more walnut acreage by purchasing nearby Viking Ranch. Winemaking didn't begin until 1981 when John Munch established the Adelaida Cellars label and by 1991 operated the winery with an agreement with the Van Steenwyks at the winemaking facility they constructed on Hilltop Ranch.


The historic Hoffman Mountain Ranch (HMR) that was planted to rare, old vine Pinot Noir dating back to 1964 was purchased by the Van Steenwyks in 1994 and by 1999 they bought out Munch and became sole proprietors of Adelaida Cellars. Since then they have added Anna's Estate Vineyard, named after Elizabeth's grandmother growing Rhone grape varietals, Michael's Estate Vineyard, the only dry-farmed vineyard planted to Zinfandel, Viking Estate Vineyard is planted to three varieties of the winery's Bordeaux program, and finally Bobcat Crossing Estate Vineyard planted in 2001 with Portuguese varietals. You will see Bobcat Vineyard on the drive up to the winery tasting room.
As you enter the tasting room, straight ahead is Adelaida Cellars' barrel room. This working barrel room is often used for private events accommodating up to 120 guests. It can be transformed to serve for receptions, business meetings, seminars, mixers, brunches, and more.
Behind the tasting bar are several large glass containers filled with different levels of soil and topped off with a card with the name of the vineyard from where the soil came. This is a good visual presentation of the calcareous limestone soils and how each location has a variety of these soils in different levels based on the elevation of the vineyard.
The present day winemaker is Jeremy Weintraub who came to Adelaida Cellars in 2012. Weintraub coordinates everything supervising the growers, the consultants, and all aspects of winemaking at the winery. "I think of myself more as a winegrower than a winemaker," he says. His job is to transform the exceptional fruit of these vineyards into quality wine in the bottle.
Weintraub has a Bachelor of Arts from Clark University and also attended Fresno State and University of California at Davis receiving a Master of Science in Viticulture and Enology. Scholarships were awarded to him from the Wine Spectator and the American Society of Viticulture and Enology while he studied at UC Davis. He interned at Tenuta Tignagnello in Italy, in Central Otago and Martinborough in New Zealand, and at vineyards and wineries in Long Island, New York. General Manager, Jessica Kollhoff said, "We are very excited about what Jeremy sees in our vineyards and the amount of experience and perspective he brings to our winery."
You can experience a Private Reserve Tasting beginning with a barrel tasting and advancing to Adelaida's Green Room located behind the winery to taste selections from their limited production, library and reserve wines paired with artisanal cheeses and meats. Tasting options include your choice of Varietal Reserve Tasting, Pinot Noir Vertical Tasting, or Cabernet Vertical Tasting. Reservations are for two persons minimum up to nine persons.
Adelaida Cellars holds many special events especially during this year's Paso Robles Wine Festival in May with a Winemakers Dinner on the Hilltop featuring selections by winemaker Jeremy Weintraub and a four-course dinner by Chef Jeffry Weisinger or you can come to Wine Festival Open House on Saturday, May 18th and Sunday, May 19th. June brings a Tasting Seminar by Wine Educator, Tony Hermann on Father's Day, Sunday, June 16th that will showcase wines from grapes grown in the Viking Estate Vineyard. There will be an Andalusian Dinner and Flamenco Show on Saturday, June 22nd, and a Raw Food and Wine Works Seminar and Tasting with Raw Food Chef and Sommelier, Stephanie Burton, and Wine Educator, Cynthia Bowser telling you how to pair raw food and wine.
Adelaida Cellars is a SIP Certified winery and they are good environmental stewards supporting their energy needs with the installation of solar panels on the property. Ranch employees even get to have their own garden plot to grow vegetables for their families.
Come for a tasting and the Wine Educators will assist you and tell you all the things you need to know about the wines of Adelaida Cellars. You can even crack open some of the walnuts that are harvested from the walnut orchard or buy a bag of walnuts or almonds to take home with you – along with some wine, of course!
— Ruth Ann Angus
Subscribe to weekly travel news
comments