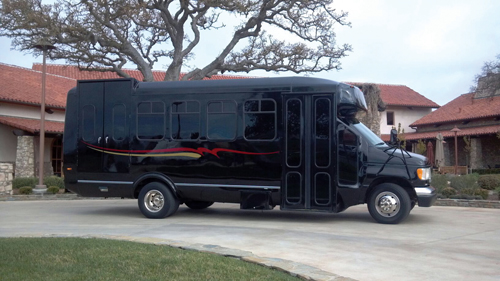 Crown Limousine is a great choice for wine tasting tours
You sit at the back of a dimly lit stretch limousine, reclining upon the sleek leather seats, leisurely sipping a glass of Champagne as the car rolls smoothly over the dark roads. Casually, you glance out the window in time to notice a car that just swerved in front of your vehicle. The move that might have caused another driver to slam on the breaks was swiftly neutralized by your driver's quick reflexes and sound tactical skills. You, as a passenger, felt not a thing. In a few moments, the limo rolls around to the entrance of the party you're attending tonight and the driver stops, walks around to your door and helps you out of the vehicle. You've arrived in style. You've arrived in safety. You've arrived with Crown Limousine.

Fulfilling any fantasy customers may have ever harbored of having their own capable chauffeur, Crown Limousine of Paso Robles offers more than just a personal driver. Many of their professional, prompt and prepared chauffeurs are also active firefighters, law enforcement officers, and military service people who are skilled in defensive driving, defensive tactical training, and some medical skills. They are expertly proficient in controlling sensitive and precarious situations and are trained to know the layout, logistical details, and surrounding traffic patterns of the San Luis Obispo County area.
For many of us, therefore, a ride with Crown Limousine is as close to having the protection of the Secret Service that we'll ever experience.
Founded by brothers Brent and Sean Keller, respectively a fireman and a police officer, the business began with one limo in 2009 as a simple side project that they could run during their off-days. Brent had always admired limousines, had experience in marketing from a separate retail business, and had learned about the professionalism and transportation aspects of the company through his previous work with San Luis Ambulance.
These experiences, combined with the brothers' natural proclivities for understanding cars, public safety, and running a tight ship, quickly turned the side business into an additional career, which the brothers manage—when they're not busy saving people's lives.
"We run it on the side," Brent explains, noting that he uses his off-days to manage the nine chauffeurs and eight vehicles that now comprise Crown Limousine. Among the cars available are the classic white stretch limousine, as well as a stretch SUV, shuttle and party buses, and private cars.
Their chauffeur services cater to wine tasting parties in Paso Robles and Edna Valley, as well as guests of events like weddings, proms, and, you know, "VIP stuff," providing customers with Crown's signature blend of affordability, dependability, safety and utmost professionalism.
Brent explains that his drivers are extensively trained in professional driving standards and customer service as well as in hospitality services. "We want them to be the concierge for Paso Robles and the entire Central Coast," he says.
While Brent says that he is always happy to work with any customer to find a mutually agreeable package, Crown Limousine has a special place in its heart for service men and women. "We like to give back to our brothers and sisters that are in the service or are retired," Brent says of the special discounts they offer.
And rightly so because, really, who deserves VIP treatment more than they do?
Schedule your own VIP tour with Crown Limousine by calling 805.434.8055 or visiting crownlimos805.com for more information.
— Jamie Relth
Subscribe to weekly travel news
comments