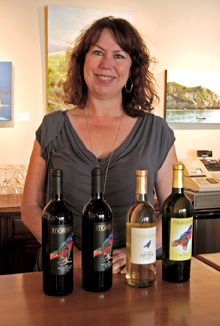 David Bradford says he knows when the wine being made is just right from the look on his winemaker wife's face as she samples it. "If I see her happy face, I know she likes it." Andrea Bradford has reason to have a happy face these days. As winemaker for Morovino Winery she is one of a very few successful female winemakers.
Italian born Guerrino "Gerry" Moro is a second generation winemaker. He learned his craft from the first generation winemaker, his Mom in Italy. As he progressed, he often called Momma for a little advice. In 1994 he started Morovino Winery on the Central Coast. But time was not on Gerry's side since at this point he was already entering into his golden years. The desire to wind down was strong but there was no one in the family he could pass his Italian style winemaking skills to. Andrea and David met him in 2007, looking for a new venture, and became the new owners of the winery. Then Gerry went about teaching Andrea everything he knew about producing fine Italian wines.
Today the Bradford's days start early especially during the time of the crush. It's up at dawn and off to the processing plant at the Santa Maria Co-op where Andrea directs a crew of wine interns on how she wants the grapes handled. Then even before breakfast she tastes. She swirls the selection in her glass; she sniffs the aroma; she takes a taste; and then it happens, her happy face. That is, of course, if the wine is at the point of perfection she is looking for.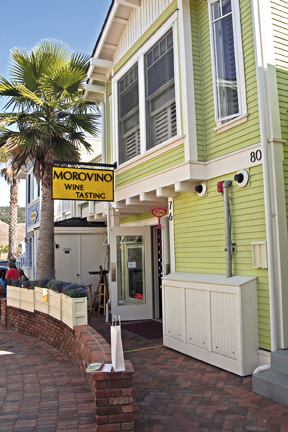 Morovino buys their grapes from the Los Alamos Vineyard where grapes such as Pinot Grigio, Barbera, Dolcetto, Cabernet, and more grow in the relatively cool climate. These grapes are a good choice for making Italian style wines that are more acidic and less tannic in nature. Wines like this are more earthy and pair well with foods containing tomato or garlic; foods that are typical Italian dishes.
Andrea is a "foodie" by nature. "I can get up and start cooking at 8 A.M. and still be cooking at 8 P.M.," she says. When pouring at the tasting room she doesn't just tell you about the wine, she suggests various foods to pair with them. "I think Pinot Grigio is beginning to be the 'in' white wine," she commented. Morovino does two types of Pinot Grigio that are distinctly different from each other. The 2011 San Francisco Chronicle Wine Competition Silver winner, Pinot Grigio 2009 is a refreshing white with hints of pears and cream and tropical fruit. "This one is good with spicy dishes," Andrea says. Then there is Rosa di Rame 2010, the Silver winner at the 2011 Orange County Fair and 2011 Central Coast Wine Competition, a dry Pinot Grigio that is the ultimate. "Don't be afraid of pink," Andrea says. The color is more of a copper hue than pink and the name reflects that. In Italian it means rose of copper. Andrea pairs this one with fish and salads.
A new web site is in process and Andrea plans to include a section called The Practical Kitchen where she will write about food and wine pairing. One of her ideas is "Five Minute Fridays" where she will lend advice as to what wine to pair with a variety of pre-packaged meals that you can pick up on your way home from work on Friday evenings at the supermarket.
"I think wine should be fun," she says, "life is too short to drink wine you don't like." This philosophy carries into how Club Vino, a flat fee wine club, operates in that members are sent a list of the selections, what foods to pair them with, and can choose what they want to receive.
After finishing work at the processing plant the Bradfords head for the tasting room located at 76 Landing Passage, a walkway between First Street and Front Street and the beach. There is a cozy fireplace for rare chilly days and on those wonderful sunny days the doors are swept wide open and you can enjoy sitting at the bar or in the lounge. Sundays bring area musicians for your wine tasting enjoyment. Be sure to end your tasting pleasure with a sip of Il Tesoro, a Port that is to die for. If you like chocolate, you will love this wine, and you are guaranteed a happy face!
Morovino Winery tasting room is open daily from Noon to 5 P.M.; Friday and Saturday Noon to 6 P.M.
— Ruth Ann Angus
Subscribe to weekly travel news
comments