Nine new things on the Paso Robles visitor scene
1. The Marker Restaurant
River Oaks Golf Course just opened The Marker Restaurant in August, with views overlooking the golf course and rolling west hills. The menu features Mediterranean and Greek influences, sourced from locally grown produce and meats, with most items entirely homemade and prepared on site. The restaurant serves lunch and dinner and features a Sunday brunch with live jazz. The patio is a popular spot to dine or simply enjoy their large selection of local wines and premium beers. Guests will enjoy live jazz music plus open mic nights for local musicians on Friday and Saturday evenings. 700 Clubhouse Drive, (805) 226-2096.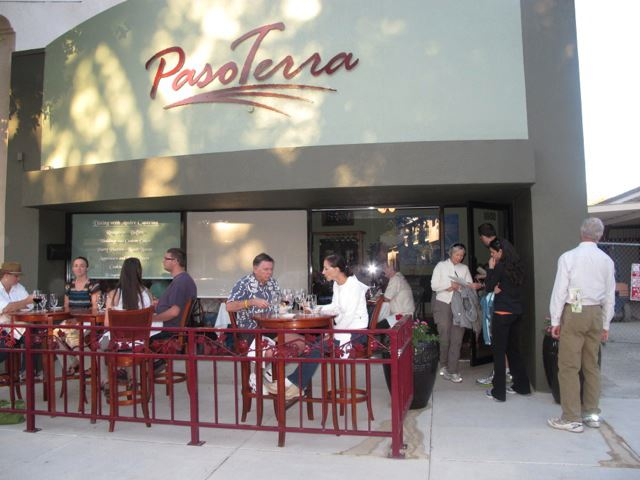 2. PasoTerra
Opened on September 15 by Chef Andre and Cristina Averseng, PasoTerra will feature sustainably farmed products such as abalone, oysters, olive oil, goat cheese and fresh produce from local farms. Located in the front area of Dining with Andre, a catering company and culinary school, PasoTerra will be ideally located in the heart of downtown Paso Robles. 1032 Pine Street, (805) 227-4100.
3. The Oaks Hotel – coming soon!
The Oaks Hotel in Paso Robles is set to open this fall, and will feature three stories with 90 comfortable guest rooms. Guests will enjoy services and amenities such as hot breakfast, a wine bar, conference room, exercise room, pool and spa, as well as a stunning restaurant, making it a great place to enjoy a relaxing stay in Paso Robles. 3000 Riverside Avenue, (888) 298-4141.
4. Olivas' Olives
For premium organic olive oil, visit Olivas de Oro Olive Company along the newly opened Creston Wine Trail. This 160-acre olive orchard boasts a mill, tasting room and guesthouse on site. After relocating 2000 100-year old olive trees from Northern California to Creston, Olivas de Oro planted a 15-acre high density orchard, making this family-run ranch the largest estate-grown organic olive oil producer on the Central Coast. Olivas de Ora also raises grass fed sheep that can be found milling around the property. Visitors are welcome to tour the property and the mill, and take part in olive oil tasting. Tasting room is open Friday-Sunday from 11 am – 5 pm and by appointment. 4625 La Panza Road, Creston, CA 93432, (805) 227-4223.
Arroyo Robles Winery has moved to a new location and can now be found in a cozy tasting room on Park Street, the former home of Ortman Family Wines. Fans of Arroyo Robles can still expect the same delicious wines that they have grown accustomed to including Zinfandel, Syrah, Cabernet and more while sitting on the comfortable patio outside with shaded tables. This new backyard area will be a real treat for guests, who can look forward to fun events held on the patio. 1317 Park Street, (877) 759-WINE (9463).
6. Chic and Cozy
Brochelle Winery has opened a swanky new tasting room. Get a taste of their famed Estate Zinfandel while seated at a bar made out of reclaimed oak, or at a comfy seating area beneath the expansive wine glass chandelier. Just like their wines, the owners and operators of Brochelle Winery did all the work on the tasting room by hand. 2323 Tuley Court #130, (805) 237-0519.
7. New River Trail
Get your bikes and walking shoes ready! A new River Trail that runs parallel to River Road and 13th Street is under construction. This new trail will allow pedestrians and cyclists to travel safely from Larry Moore Park to North River Road without needing to use the busy roads. The completed trail path will be 12-feet wide, featuring an 8-foot wide concrete path with two 2-foot shoulders on either side. Approximately 2,000 feet long, the path will be easily accessible to all and will be lighted with benches to rest on along the way. The trail is expected to be available for public use by December 2012.
8. Naughty but Nice
For couples looking to spice things up, there's a new boutique store on Spring Street that has just what they are looking for. Naughty but Nice is a great shop where visitors can find those romantic and saucy items they are looking for while still being at ease. Customers will find a wide selection lingerie and bridal collections to novelties and bachelorette party supplies. 1319 Spring Street #101, (805) 238-2787.
9. Coming Soon… Ayres Resort & Spa
Paso Robles can look forward to a new full-service resort and spa on Buena Vista Drive, anticipated to open in 2014. This chic new resort will feature 225 guest rooms, a fine dining restaurant, on-site spa, boutique, 20 guest villas and 5,000 square feet of conference space. In addition, the resort will include a pool, spa and bocce ball courts, as well as beautiful vineyards, olive orchards and a variety of classic meditation gardens for ultimate relaxation.
For more information on attractions, dining and lodging in Paso Robles, visit travelpaso.com.
Source: Travel Paso
comments