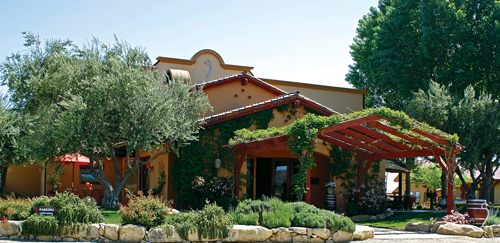 Silver Horse Vineyard & Winery
Just driving down the roads of the Pleasant Valley Wine Trail on a sunny afternoon is reason enough to come out to the great wine growing area of San Miguel, but a stop at the hilltop tasting room of Silver Horse Vineyard and Winery will surely make your day.
The Spanish hacienda style tasting room is surrounded by acres and acres of vineyards and the view from the hill seems to go on forever. Inside there is a cozy feel with a wood burning fireplace and comfy chairs to lounge on. Step up to the bar and meet Greer Woodruff, tasting room manager, and she will take you through the Spanish and French Bordeaux varietals that winemaker, Stephen Kroener produces in an adjacent area. You can see the winemaking action through a viewing window in the tasting room.
You might look around on the property wondering where is the silver horse? But the only place you'll see him is on the winery's label. "Silver Horse used to be a horse ranch," Greer explains, "and when the Kroeners purchased the place, they retained the name." Well, that tells us about the missing horse, but you can get some horse-hands-on by playing a game of horseshoes out in front of the tasting room. If horseshoes isn't your game, try Bocce ball. Or you can bring your picnic and relax on one of three patios at the winery.
An event facility is on site that can hold 400 people and is perfect for weddings. The building has adjustable walls that can be completely opened to accommodate an indoor-outdoor setting. There is also a 4000 square foot lawn and garden area and an outdoor kitchen.
The barrel room is also available for rent for groups no larger than 50 people. Silver Horse shares the barrel room with Tassajara Winery's tasting bar.
Kroener's philosophy with his wines is to produce premium wines that are 100 percent food friendly.  Silver Horse offers their 2010 Albarino, 2009 Zinfandel, and blends 2009 The Main Thing containing 41% Merlot, 33% Petite Sirah, 16% Cabernet Sauvignon, and 10% Malbec, and 2009 Sage containing 30% Cabernet Sauvignon, 30% Merlot, 20% Malbec, and 20% Petit Verdot, and 2009 Tantric containing 40% Zinfandel, 40% Syrah, and 20% Petit Sirah.
The S'orse Wine Club offers members a three bottle selection of wine bi-annually, a 20% discount on wine purchased either online or in the tasting room, special invitations to events, and free tasting when visiting the tasting room. Wine club shipments are in spring (April/May) and fall (October/November).
Silver Horse Winery participates in the Pleasant Valley Sunday Glass Pass where for $10 you get to keep the glass and taste for free at all Pleasant Valley Wine Trail wineries. Be sure to ask the tasting room attendant for details.
Special events are part of the fun at Silver Horse. Kroener substitutes as chef at the large outdoor pizza oven for many of these parties. Coming up for the summer season starting on Friday, May 18th from 5 Pm to 8 Pm is "Friday Fête." This once a month event will find Kroener and staff preparing gourmet food for guests to enjoy while listening to some great music from local groups, all while tasting fantastic wines. Kroener thinks Friday fun is a great way to start your weekend off. Friday Fete costs $5.00 for tasting and $10 for fare. Wines by the glass or bottle are also for sale. The following Friday Fetes will take place on June 22, July 20, August 17, and September 14. Harvest time will be celebrated with Silver Horse's annual grape stomping party the Bacchanalia on October 6.
Silver Horse Vineyard and Winery is located at 2995 Pleasant Road, San Miguel and is open Friday through Monday, 11:00am to 5:00pm. For more information, visit silverhorse.com or call (805) 467-9463. They can also be found on Facebook and Twitter.
— Ruth Ann Angus
comments