Paso Robles bed and breakfast with the best views offers amazing specials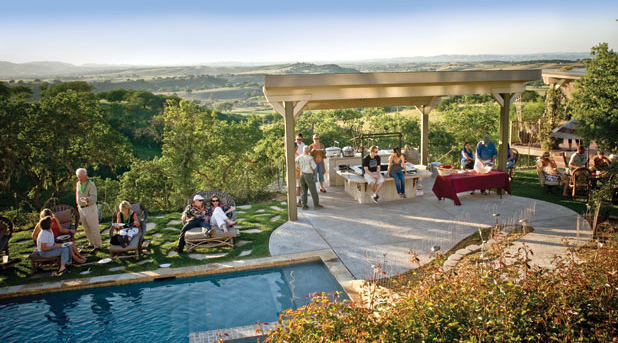 High Ridge Manor, often called best bed and breakfast in Paso Robles, is offering specials to tourists and locals looking for a relaxing getaway. The B&B has the distinction of being voted one of the top 14 "Most Romantic B&B and Inn in the United States by Traveler's Choice Award.
It's an amazing bed & breakfast with the best scenic views in Paso Robles. Come explore the best that the Paso Robles Wine Country has to offer. The region is known for amazing wines, boutique shops and stunning panoramic vistas.
High Ridge Manor features lush gardens and hills accented with oaks and vineyards. Guests are welcome to play billiards in the pool room, make a selection in the wine cellar and enjoy appetizers. Each luxury guest suite has a whirlpool tub, fireplace, feather-bed and private entrance. Wake up to a gourmet breakfast that starts the day's adventures in the scenic surroundings.

Mid-Week Special:
• Three weekday nights for $749 – a savings of over $100!
• Your choice of red, white or sparkling wine upon check-in.
• Hors D'oeuvres served nightly at 5:30pm
A Slice of Heaven Special:
• 2 night, weekend stay for two, in the suite of your choice (subject to availability)
• Your choice of red, white or sparkling wine upon check-in
• Evening Hors D'oeuvres Friday and Saturday evening at 5:30pm
• Sunday – one hour massage for two in room
• All for only $850.00
Cloud Nine Special:
• Two-night, weekend stay for two, in the suite of your choice (subject to availability)
• Your choice of red, white or sparkling wine upon check-in
• Evening Hors D'oeuvres Friday and Saturday evening at 5:30pm
• Saturday -Spa package for two
• Start your spa journey in our Jacuzzi overlooking scenic countryside of Paso Robles Wine Country
• Your experience includes Jacuzzi-side bottle of local sparkling wine
• Next you will enjoy a full body massage for two in our private outdoor gazebo among oak trees and vineyards
• $900.00 per package
High Ridge Manor
5458 High Ridge Road, 
Paso Robles, CA 93446
 (805) 226-2002
comments