What Wine Do You Pair With Bear?
Paso Robles Big game hunter and wine fanatic pairing wine with wild game meats on new website wildgamewine.com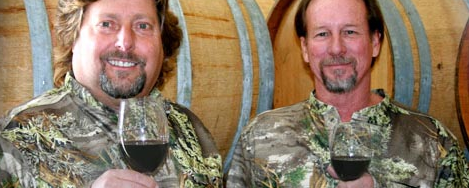 Two wine lovers in Paso Robles launch WildGameWine.com to pair wine with venison, elk, moose, buffalo, boar, wild turkey, duck, pheasant, goose, quail, halibut, bass, tuna, salmon, trout and more. The site includes recipes to help match wine with wild game meats and more than 100 recommended wines from Paso Robles and Santa Barbara wineries and vineyards.
Steve Mayer is a big game hunter, fisherman, self-taught chef, and wine connoisseur. He was destined to create a new web site devoted to pairing wine with wild game – wildgamewine.com.
The site offers tasty recipes for wild game and recommendations for pairing wine with venison, wine with duck, wine with salmon and many more.
"I've enjoyed pairing Paso Robles wines for over 35 years," Mayer says, "and I've also hunted and fished all around the world." To marry these two loves in his life Mayer learned to cook and found that the correct wine was synergistic with the meal he prepared.
"It was like an epiphany. I needed to share this with other hunter-gatherers who obtain their own truly organic protien from the wild. A lot of hunters are out there that have never put together fish and game with wine," he says.
"In my travels I have had an opportunity to see how great chefs from around the world have paired their food with wine from their area. Terrior is not only a factor in great wine, but totally affects the native game and fish also. Mayer's interest also gave him the opportunity to bring a variety of California wines onto the Internet. I want to make great California wines accessible to everyone," he says.
Mayer and his partner Richard Rusin are working together on this new endeavor. Rusin came out of developing real estate in Cancun to join up with Mayer, a mortgage banker, and they both are working hard to promote the new business.
The story of how Mayer and Rusin figured out the wines to pair with wild game is really unique. "I cooked up samples of venison, boar, quail, antelope, goose, halibut and salmon and brought them to different wineries to pair them with their wines," he says. They visited as many great wineries as they could between Santa Barbara and Paso Robles, and they sampled wines as they tasted each type of game meat and fish.
Mayer says he never wants to eat cold pieces of meat again. At most wineries the winemakers and vineyard owners joined in with the wine pairing to assist in the selection process. An interesting thing Mayer discovered was that Santa Barbara Orange Muscats paired well with everything. "It is a dry muscat and the flavors really accentuate with various meats," he says.
The red and white blends also pair exceptionally with game meats and seafood. "The GSM is a boon for foodies and anything with Mourvedre is very game meat friendly". "There are so many outstanding wines in the Santa Barbara to Paso Robles region" and they have chosen to concentrate their inventory with these wines.
Mayer and his partner Rusin have carefully paired the wines to bring out the best of the game meats, fish and waterfowl. In doing the pairing Mayer cooked the meats in olive oil and added only a touch of salt and pepper so that the pairings were kept pure. He and Rusin are continually working at pairing wines to fine-tune their choices. They are aware that a lot of the success of the pairings will depend on each consumers own palate and tastes.
When pairing wine with bear for example, good choices include Zinfandel, Barbera, Sangiovese, Merlot, Syrah, Cabernet Sauvignon and the wine that goes with everything… Orange Muscat.
Mayer says he can cook and "throw down" with the best, but is not a formally trained chef, at least not yet. He does write a monthly wild game & fish cooking column for Sportsmen's News, and is working on his first wild game cookbook. There are some of his recipes included in his blog online.
He is enthusiastic about bringing the wine with wild game to hunting and fishing lodges in Alaska, and other western states. It was there that the spark for the creation of the business began. He hunted and fished with Michael Deming of Sportsmans News at Larsen Bay Lodge on Kodiak Island, with friend and owner Mike Carlson.
"While I was at Larsen Bay we caught limits on everything," he said, "trout, salmon, halibut, black bass, and a limit of three Sitka Blacktail deer. We ate like kings! I sent up cases of wines prior to my arrival and we were able to enjoy those with our dinners. That was the beginning of Wild Game Wine, great wines paired with great game. It was an epiphany that became a reality."
The web site has a wine club with no cost to join and members benefit by getting a nine bottle case two times a year. They can also pick any wines they want and obtain 20% off retail pricing on mix & match cases of wines from a long list of great wineries. "It's kind of like belonging to 20 different wine clubs all at once," Rusin says. Information as to what kind of game the wines pair with is included in the shipments that can be sent overnight in California and Nevada.
At a recent convention in Reno, Nevada they spent time with outfitters and owners of fishing lodges to discuss wine paired with salmon. "We are emphasized our ability to have their clients pick which wines they would like served in the lodge with their dinners on their trip and having them sent to the lodge beforehand," Mayer said, "Incredible wines paired to go with the salmon or halibut they catch that day, What could be better!"
"We want to be the place for people to go for wines to pair with pure foods," Mayer says. These wines pair not only with wild game and fish, but pair equally well with pork, chicken, and beef. After all they are great food wines. WildGameWine.com appears to be filling a niche for sportsmen and lovers of wild game and California wines.
Wild Game Wine, 
825 Riverside Ave #1, 
Paso Robles, CA 93446
 (702) 596-3926
comments