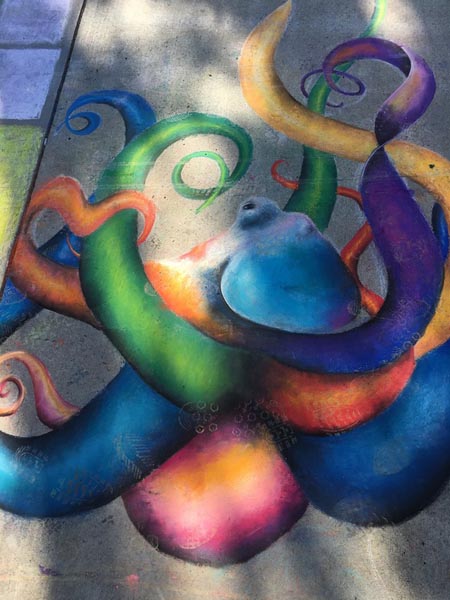 –On Sept. 14 from 8 a.m. to 1 p.m., Paso Robles City Park sidewalks will come alive with brilliant work by artists of all ages creating Arté de Tiza—chalk art. Artists of all ages create chalk art on the sidewalks surrounding the city park. This annual event, produced by the Paso Robles Art Association (PRAA) along with the Paso Robles Main Street Association, raises funds to provide art scholarships for Cuesta College students. Arte de Tiza has been creating excitement for artists, their friends and families, visitors and art lovers for many years. Everyone visiting downtown Paso will enjoy the colorful creativity of inspired young artists.
Participant categories are: Pre-kindergarten to Elementary School, Middle School, High School, and Adult. Each division receives awards for first, second and third place. Many people who enjoy watching the artists work will participate in Taste of Downtown sponsored by the Downtown Association which coincides with Arte de Tiza. Spectators will be sampling creations from local restaurants, breweries, wineries, and other eateries throughout the day.
For more information, visit pasoroblesdowntown.org.
comments