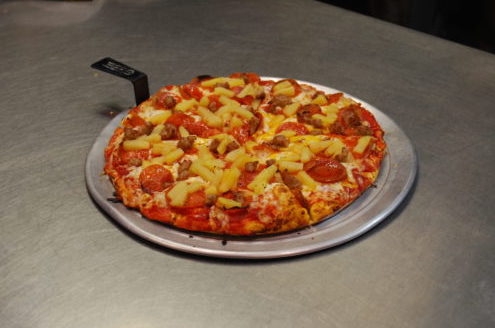 Yummy pizza has satisfied the community for over 20 years
–Located just across the street from the downtown park in Paso Robles, Paso's Pizza Kitchen uses the freshest ingredients in each dish to create a flavorful experience unique from chain restaurants. The restaurant opened in 1991, and started with "a basic idea of dedication to full effort into making our own product," said William Cook, the owner and operator of the restaurant.
The Dishes
Each dish is made with fresh ingredients, including grated cheese, vegetables, and even bread purchased from a local bakery. There are over 20 different gourmet pizzas to pick from and the option to build your own pizza with a multitude of toppings. Mouthwatering pizzas include the North Beach pizza with pesto and feta, the Chicken Sicilian with special herb seasoning and garlic white sauce, and the PPK PPOL pizza with pineapple, pepper, and olives. Make sure to taste one of Paso's Pizza Kitchens most popular pizzas, which is the Kitchen Sink. This pizza has their signature Italian red sauce and a combination of meat and vegetables.
While the pizza menu is extensive, there are also plenty of dishes that are equally as delicious. The most popular meals include the linguine chicken alfredo with their signature alfredo sauce and the chicken club sandwich with bacon and mozzarella. A traditional addition with pizza, or a yummy solo meal, is salad. The salad bar is popular for customers to create their own salad from delicious toppings, while prepared salads include the antipasto for two and the caesar.
Paso's Pizza Kitchen offers specials throughout the week, such as the Monday through Friday from 11 a.m. to 3 p.m. variety of lunch specials. One includes the "Lunch for Two" deal, in which customers can purchase two of the two topping pizzas along with salad bar access for a discounted price. The special of buying one pizza, get one half off of an equal or lesser price, occurs every day from opening until close.
The Customers
The majority of customers that come to experience the quality meals served by Paso's Pizza Kitchen are locals, but many tourists stop by due to the surrounding hotels, with even out of state and out of country visitors. In addition, a second location is in works and will be found in the Food 4 Less Shopping Center in Paso Robles.
The restaurant also delivers orders in a radius extending from Templeton to around Airport Road, ensuring that many in the community can enjoy the delicious pizza, pasta, sandwiches, and more from Paso's Pizza Kitchen.
"We're still here for a reason… [there's a] lot of hard work that goes into everything we do and people can taste the difference," said Cook.
Paso's Pizza Kitchen is located at 625 12th Street in Paso Robles. Open Sunday through Thursday from 11 a.m. to 10 p.m. Open Friday and Saturday from 11 a.m. to 11 p.m. For more information, call (805) 227-0777 or visit pasopizzakitchen.com.
—Sadie Mae Mace
comments