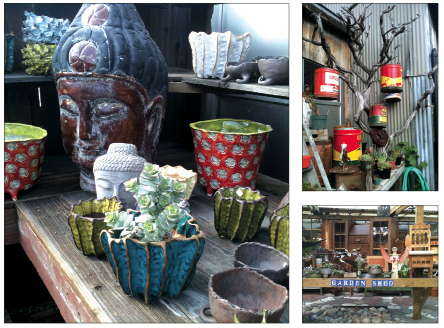 The Shops at The Garden Shed
Passion is a funny thing. You never know when it will find you, and it never fails to pull you in a direction you never planned on going. At least that seems to be the unifying moral of the stories behind the owners at The Shops at The Garden Shed, located in the charming east village of Cambria.
Housed in a rustic and sprawling 7,000-sq.ft. renovated creamery on Main Street, its core is The Garden Shed, a garden accessories and décor store lovingly and thoughtfully filled with whimsical wares and inspirational installations by the soft-spoken and sweet owner Ashley Gracey. Gracey explains that she and her husband Lucky opened The Garden Shed 14 years ago as a side business to complement Lucky's landscaping company. That was their plan. But passion for decorating and a proclivity for digging up garden art treasures soon transformed the side business into a main one that demanded their full attention.
Gracey describes the creative, collaborative process of outfitting their store with excitement. "For example we got chocolate candles," she gestures toward one small nook of the vibrantly decorated, vintage-inspired room. "So, we'll think 'Oh, what could we do that's chocolate themed? Chocolate seeds for chocolate Cosmos!"
Always working to offer a truly unique shopping experience for their customers, she says, "We try to find little artists that are not known." Of course, she is aided in this effort by the tasteful arrangement of other vendors also operating under The Shops at The Garden Shed umbrella. We walk past the Sweet Shop, tucked into a side room off of the patio, and next door, the new Ocean Heir shop, owned by Diane Matzner, which offers an eclectic mix of paper, cards, books, clothing, accessories and jewelry. To the east of the Garden Shed store and patio lie The Painted Lily, an artfully curated art gallery, and further back, Lily's Coffee Shop, a favorite spot for a latte and an unrushed morning before hitting the sights in Cambria.
And those thirsty for a different kind of brew need not leave the premises: Twin Coyotes pours their award-winning wines from their tasting room on the west wing of the Garden Shed building. Owned and operated by twin brothers Steve and Stu Thompson, Steve says Twin Coyotes began as a hobby. "We had been making wine for ourselves for a long, long time and people always told us 'You gotta sell this,'" Steve recalls, saying that they finally did give in to the pull of their passion, buying a vineyard and making their first commercial vintage in 2007.
Among their offerings is the lesser-known and lesser-grown white wine varietal called Vermentino. "That's done very well for us," Steve says of the rare grape. "It's spectacular." Having just moved into the space recently, Twin Coyotes and the Garden Shed have already begun to plan fun ways to pair the wine with the open patio space, with events like their recent Mardi Gras Jambalaya party.
Sharing that same patio space is another shop within the Garden Shed, Grow Nursery, offering an otherworldly collection of "Rare and Unusual" succulents, air plants and other unique species curated by artist and succulent fanatic Nick Wilkinson. Wilkinson says he also got into the business by way of a hobby—one that literally outgrew his college apartment. "I used to spend all my money on [rare and unusual succulents]. I got my degree in art, but I found them really interesting, and succulents are all really sculptural," he says, justifying the passion that blossomed into a now over six-year-long career and a wonderland for succulent appreciators.
He hasn't given up art entirely, though. He also exhibits his own work and helps curate the art gallery portion of Deer Run, a store housed within the Garden Shed and defying any traditional definition. "Describing my store has always been one of the hardest things," says owner Leslie Clarke Gray of her array of carefully chosen "Art & Artifacts."
"I follow the philosophy that if I wouldn't have it in my own home, I wouldn't sell it in my store," she says, adding, "You never know what you're going to see at Deer Run: it could be socks from Japan; it could be antlers; it could be vintage objects of all sorts."
And with so much inspired inventory at The Shops at The Garden Shed, it could be one of those rare items that ignites some passion within you and pulls you, by some mysterious force, down a path you hadn't planned to walk. You never know.
Wander down the garden path at 2024 Main Street in Cambria or contact The Garden Shed at (805) 927-7654 for more information. 
— Jamie Relth
Subscribe to weekly travel news
comments