Daily offerings of fun for the entire family
The best souvenirs to bring back from vacation are good stories. With 14 pool tables, 30 beers on tap, video games, and fried frog legs, Hot Shots Family Entertainment Center is the best place in Pismo Beach for the nightlife and hilarious hi-jinks that make for memorable tales. "We're looking to offer an experience that's different than any place else," said owner Phil Schwent. "You get a lot of different kinds of people here, and there's plenty of space for everyone and enough to do to keep you from ever feeling cramped or bored." Located near the pier, this one-of-a-kind spot is right in the thick of things. From the street, the building looks like little more than a novelty t-shirt and poster shop but past the racks, the room opens into a huge billiards hall. The smell of pizza and burgers fills the air, and the sudden cracks of cue balls breaking new games can be heard intermittently over rock 'n roll blasting from an internet juke box to get the good times rolling. Come rack 'em up at Hot Shots.
Family-friendly fun
This is no ordinary pool – it's a family-friendly establishment that is far from the norm. It features two air hockey tables, a plethora of arcade style race games and first-person shooters, claw cranes with candy prizes, and more. There's an entire kids section, perfect for birthday parties, that's set off from the adult area without being isolated. "It's an adult atmosphere where the kids are welcome and can stay safe," said Schwent. "Grown-ups can have a beer and shoot some pool while the kids play a few games." In short, it's a place where everyone can have a good time, kids have the freedom to be loud, and they can play side by side with adults doing the same. At Hot Shots, parents can bring the kids along for the fun. Everyone wins.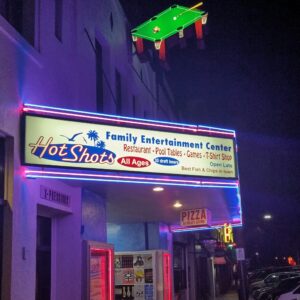 Great food, local beers & pool games
It's not a party without good food, so Hot Shots hooks it up. Their pizza is made from scratch; their burgers are juicy and dripping with cheese, and their fish and chips are rated among the best in town. Add fried pickles, artichoke hearts, and frog legs to the mix, and you've got a menu that delivers the care-free, fun loving life style of the Central Coast at an affordable price. The beer menu includes everything from your typical macro brewery beer to a West Coast style IPA and beyond, with a bevy of local micro brewery beers and those lesser-known rare brands that are sometimes difficult to come by. "This old building used to be a Vaudeville stage and a movie theater," said Schwent. "It's a great place for entertainment, and that old attitude lives on." Nowadays, pool rules at the old theater. A league meets weekly to compete for bragging rights in "Scotch Doubles" play, meaning each team is composed of one guy and one gal. The seasons last 22 weeks, and the competition is more friendly than fierce. At the end, every single player is invited to attend a championship tournament in Reno. "There are a lot of couples that come out for regular date nights as part of the league," said Schwent. "Teams are placed into brackets by skill, so you're playing people at your level. Everyone is invited to join the league, even beginners." Future plans for Schwent and his team at Hot Shots include purchasing the T-shirt shop at the entrance, relocating the pool cue shop and accessories to the retail store, and creating more of a gift shop feel while maintaining favorites such as the popular funny shirts and music shirts. Hot Shots will be closed for a few days in winter 2014 to allow for renovations that will include all new pool tables, flooring and games.
Hot Shots Family Entertainment Center, located at 250 Pomeroy in Pismo Beach, is open daily 11 a.m. – midnight, with extended hours until 1 a.m. on Friday & Saturday. Call (805) 773-4542 or go to
hotshotspismo.com
for more information. — Nick Powell
Subscribe to weekly travel news
comments