Take a tour of a working goat cheese ranch
"It is absolutely majestic" – Jill Hammond
While a steady stream of traffic winds it way up the coast to Hearst Castle, there's an entirely different experience to be had nine miles south. Stepladder Ranch & Creamery is home to a Lamancha goat dairy and creamery just outside the town of Cambria. The creamery's focus is making traditional and innovative, small-batch cheeses. One, named Ragged Point, was awarded the 2019 Good Food Awards as well as the 2018 American Cheese Society third-place award.
Stepladder Creamery was started in 2014 when Jack Rudolph returned home to run his grandfather, Jack Russell's ranch, which was established in 1871. What started out as a hobby farm for Jack while working in the Palo Alto tech industry launched into a full-fledged business. Today, Jack, his wife Michelle and a small, passionate staff manage the farm and a booming successful creamy, which began with only a handful of goats and a third-generation rancher teaching himself to make cheese in his kitchen.
"It is absolutely majestic," said Jill Hammond, Business Development Manager for Stepladder Creamery. While the goats are the main attraction, a climate, which facilitates citrus and avocado groves, adds to the idyllic setting of the farm.  "I think because its run by a new generation, it's younger and has a hip vibe about it. It's not like a petting zoo, it's a working farm with a lot of young interesting people who are really passionate, it's rad."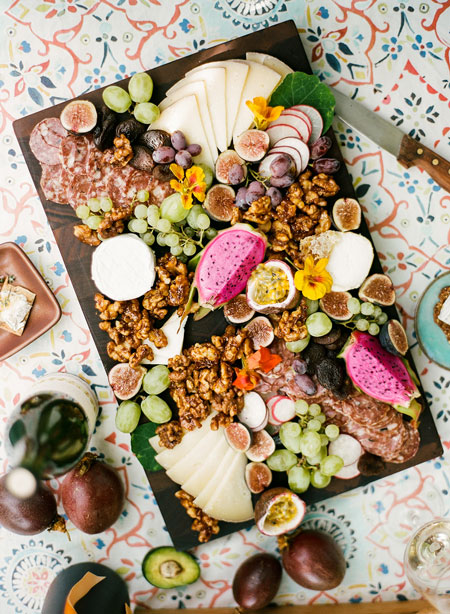 A unique farm experience
Stepladder Creamery opens its home to the public through guided tours and special behind-the-scenes looks at the goats and people who are creating award-winning cheese for restaurants and shops throughout California.
Guests learn about the history of the ranch and the goats as they meet the herd in the goat barn. The tour continues to the milking parlor for a demonstration, then to the creamery to follow the process of creating cheese. The tour ends in the tasting room and farm shop.
Open year-round, the tours change with the seasons. "You'll learn what's going on for each season. In the spring the goats have their babies so there's a lot going on in the world of the goats," Hammond said.  "It's awesome, it's different from a lot of other farm tours in that it's fairly structured. Because it's a private family farm it's a more intimate experience."
Stepladder Creamery is also available for weddings and corporate and group events and also features an Air B&B.
"I would love for people to know that it's a place to spend an afternoon if you're looking for something to do in Cambria," Hammond added. "It's a special place, off the grid which offers a very different experience from visiting Hearst Castle, and its equally as cool."
The tours
Group Creamery Tours are one-hour long and give visitors a unique opportunity to see the herd of Lamancha goats, the inside of the milking parlor, peek into the creamery and learn how the cheese is made. Every tour ends with a cheese tasting. These tours are $20 per person. Children under the age of 3 are free and do not require a ticket. Please be considerate and supervise your children at all times.
Ranch and Creamery Tours are $30 per person and offer the same components as the Group Creamery Tour plus an extended tour of the farmed acreage. Learn more about the micro-climate that makes Stepladder so special and dig into daily farm activities, including milking.
The farm is a private residence and all visits are by reservation only. No tours on Tuesdays and Wednesdays. For the safety of the farm animals and yours, no dogs are allowed on the property under any circumstances.
Stepladder also offers Goat Yoga and Goat Hiking Tours on a seasonal basis, so check the website often!
Once you book your tour online and receive directions via email, you are met at the gate by your tour guide who will lead your caravan to the farm. According to Hammond, the three-minute drive usually elicits, "Oh my God, this is amazing," from guests.
Book online at www.stepladdercreamery.com, (805) 395-3015.
–Original story By Katie Marchetti, Photo Credits: Mike Larson
comments