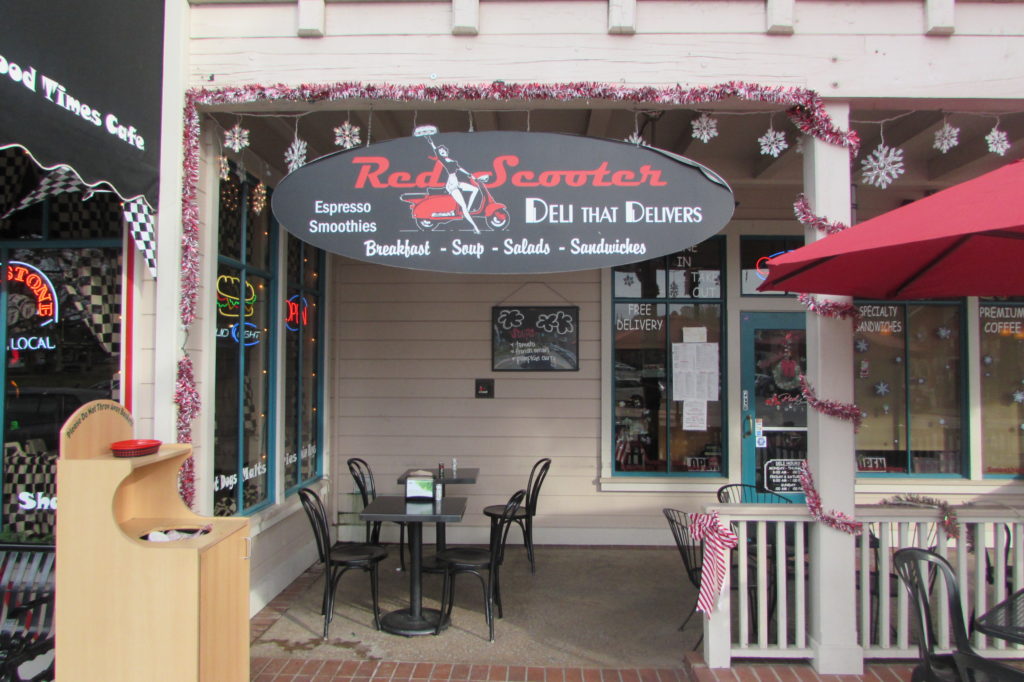 Discover the meal destination for locals and visitors
–Located on Pine Street directly across the street from the Downtown City Park, the Red Scooter Deli is a meal destination for locals and visitors. Open early for breakfast, locals on their way to work pop in for breakfast, coffee, a pastry or maybe a smoothie.
There is patio seating and many guests take their orders to go and enjoy a relaxing meal in the park. The Red Scooter Deli is a favorite for regulars traveling between Southern California and the Bay Area. "We are the halfway point," said owner Stephanie Johnston. "It's always nice to see our repeat customers. We have quite a few who arrange their trips so they can stop here for something to eat."
The food is built on fresh, locally-sourced ingredients, including pastries and breads either baked in house or from local bakeries. Breakfast choices include bagels, lox and bagel, multigrain oatmeal, egg scrambles, and breakfast sandwiches. Try the Eggs Benedict or the Ham and Chili Scramble. There's a veggie wrap and a ham and cheese croissant and more. Hot and cold sandwiches and wraps piled high with a choice of fillings, three different daily homemade soups, and salads fill out the menu. Gluten-free choices are available, as are vegetarian and vegan options, fruit smoothies, and a full espresso bar. Delivery options provided for orders placed between 9 a.m. and 3 p.m.
Great for breakfast and lunch, Red Scooter is the place to go for an afternoon snack. A fruit smoothie fits the bill for a mid-afternoon pick-me-up or enjoy a coffee with a walnut-loaded sticky bun or a light lemon bar. Ask about catering — the menu features a large variety of sandwich, cheese, and vegetable platters as well as salad bowls, box lunches, and desserts.
Johnston has been operating the Red Scooter Deli since 2010 upon purchasing it from the former owners. She works alongside her staff, taking orders, preparing the food, serving food, checking on customers, and bussing tables.
"I'm very hands-on," said Johnston. "This is a family-run business and I enjoy mentoring the staff and helping them learn and develop job skills." Her efforts are apparent in the cheerful and helpful attitudes of the deli staff.
For food delivery call or order online. Winery delivery is also available and call early to schedule.
Red Scooter Deli, located at 1102 Pine Street in Paso Robles, is open Mon-Fri 7:30 a.m. to 4 p.m. and Sat-Sun 9 a.m.-3 p.m. Delivery is available Mon-Fri 8 a.m.-3 p.m. and Sat-Sun 10 a.m.-2 p.m. Closed Super Bowl Sunday, Easter, Mother's Day, Father's Day, 4th of July, Thanksgiving, Christmas Eve, and Christmas Day. For more information, see www.redscooterdeli.com or call (805) 237-1780.
– Jackie Iddings
comments