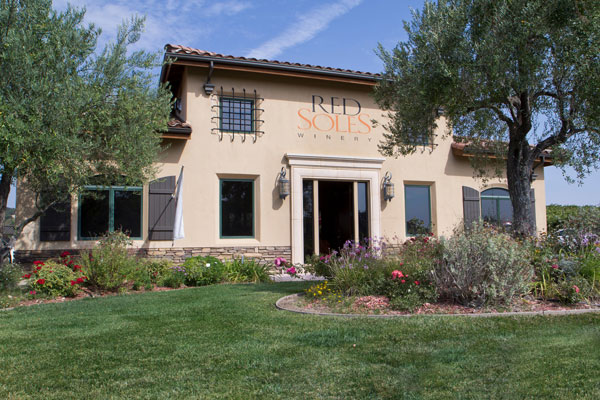 Enjoy prestigious wines and spirits
Just a handful of deep, flavorful wines to try at Red Soles Winery include the Cabernet Sauvignon, the Petite Sirah, and the Miracles Ranch Tempranillo. Make sure to also taste the Spanish style wines, the Mataro and the Garnacha, which have bright and fruity flavors. Red Soles Winery grows ten varietals and offers over 15 options with blends and dessert wines during tastings.
Another unique feature of Red Soles is the impressive handcrafted still from Germany named "Patience, My Dear", which produces finely crafted brandies and spirits. Visitors at the tasting room can witness "Patience" at work creating Five-Year Barrel Aged Brandy, Cinnamon Hooch, Limoncello, and many other delicious spirits.
Randy and Cheryl Phillips have grown their highly sought-after grapes in Paso Robles for over 30 years and in 2004 decided to take a leap into the wine-making business with the production of their own label, Red Soles Winery. With an open, airy tasting room and acres of gorgeous vineyards to explore, Red Soles Winery is the perfect addition to your wine-tasting adventure.
"Although the winery is definitely a full-time business, the main focus of Randy and Cheryl's company will always be farming. There is something extremely satisfying about being able to be part of a wine grape's journey from dust to vine and vine to barrel," the pair explained.
The Phillips began their career in the wine industry back in 1991 when they purchased land in Paso Robles to grow grapes. Soles Winery produces their award-winning wines from these grapes. Other notable wineries throughout California also produce wine from these grapes.
Their one-hundred-acre Miracles Ranch is located in the westside Willow Creek District of Paso Robles. The idea to open their own winery came when the duo crushed Petite Sirah and Zinfandel grapes in a barrel, and as Cheryl notes, "We stumbled upon the name Red Soles while admiring each other's red, grape-stained feet." From that event they created the '2004 Kick-Off' premier vintage.
Red Soles Winery is located at 3230 Oakdale Rd in Paso Robles. Open daily from 11 a.m. to 5 p.m. For more information, call (805) 226-9898 or visit redsoleswinery.com.
—Sadie Mae Mace

—Sadie Mae Mace
comments