Gifts for kids from one to ninety two
Whiz Kids is not your average toy store. This unique shop located in San Luis Obispo is hand selected by the owner, Lesa Smith, and her enthusiastic staff of toy experts, and is chock full of surprises that appeal to both the young and the young at heart.
"It's not about what's 'hot,'" said Smith. "We screen things by the value of the toys." Her store is curated to include items such as science kits, construction toys, games, arts and crafts.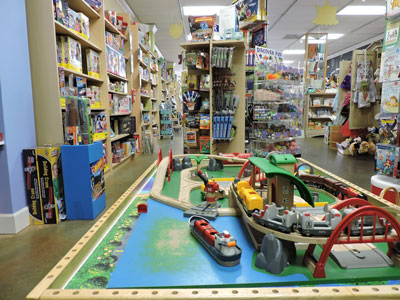 "Kids are not going to find what they saw on TV here," said Creative Director Katelyn Holliday, "The toys that you are going to find here are the kind of toys that last a lifetime, and have some sort of educational value."
Shoppers are invited to bring in their list and hand it over to one of their knowledgeable staff, who can help to select perfect gifts for everything from toddlers to seniors. "We have gifts for infants, kids, college students… everyone."
There is a multitude of events at Whiz Kids. On Nov. 28, they participated in Small Business Saturday, a national movement to help promote the importance of shopping locally. For the entire month of November, the toy store ran a special program called, "The Angel Tree," in collaboration with Family Care Network and local elementary school CL Smith. Shoppers could come in and pick an ornament off of the tree with an age on an unprivileged child written on it, select an appropriate toy, and receive 10-percent off of the purchase of the toy. All toys were collected at the end of the month by the nonprofit and distributed to local kids in-need.
Whiz Kids is going to be the place to be this winter. Returning again this year just in time for Christmas will be Santa Claus himself from 11 a.m. – 2 p.m. on Saturday, Dec. 5.
Whiz Kids is located at 3979 S. Higuera St, San Luis Obispo, in the Trader Joe's shopping center. For more information, go to whizkidsslo.com, facebook.com/whizkidsslo, or call (805) 547-1733.
– Skye Ravy
Subscribe to weekly travel news
comments