Find gifts for kids from one to ninety-something
Whiz Kids is not your average toy store. Everything inside this unique San Luis Obispo shop is hand selected by the owner, Lesa Smith, and her enthusiastic staff of toy experts. One step inside and there's no doubt Whiz Kids is filled with surprises that appeal to all ages.
"It's not about what's 'hot,'" said Smith. "We screen things by the value of the toys." Her store includes science kits, construction toys, games, and arts and crafts. "The toys that you find here last a lifetime."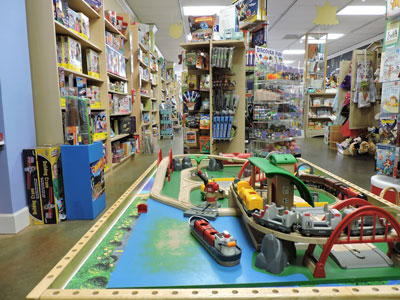 Smith and her knowledgeable and courteous staff have branded themselves as "the toy experts." The staff is happy to make recommendations, or even do the shopping to help find the perfect item. "We have gifts for infants, kids, college students, for everyone," said Smith.
Some of the more popular items at Whiz Kids are coloring books for adults. Coloring has been determined to be calming on the nerves and may be a form of therapeutic meditation – these coloring books are a real hit with moms.
Whiz Kids is located at 3979 S. Higuera St, San Luis Obispo, in the Trader Joe's shopping center. For more information, go to whizkidsslo.com, facebook.com/whizkidsslo, or call (805) 547-1733.

– Skye Pratt
comments