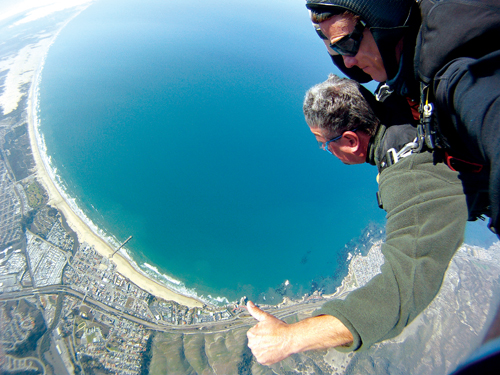 In 21st century America, planes are a fairly normal aspect of the daily grind. Most adults would say they've flown, but Chris Lee, general manager of Skydive Pismo Beach, would disagree. To him, that would be like saying you went for a swim without ever leaving the boat. In order to fly, you've got to jump.
The free fall is incredible. For 45 to 60 seconds, jumpers hurtle toward Earth at 120 miles per hour. The whipping wind actually slows the descent, creating a feeling of floating rather than falling. According to Lee, there's no "pit in the stomach" sensation like the one people get from riding roller coasters. He said the brain can't process the distance and speed, so it doesn't bother warning the body.
"You actually get to fly," said Lee. "It's an experience so unique you can't really describe it, but you can't help but smile when you try."
Skydive Pismo Beach is a tandem skydiving school, which means every novice jumper is strapped to an certified USPA instructor. Serious thrill seekers can enroll in courses that will eventually allow them to jump solo or become instructors themselves.
Before being certified, tandem masters must complete rigorous safety training, something Skydive Pismo Beach takes seriously. Each parachute comes complete with an Automatic Activation Device, a computer that senses elevation and speed. If the main parachute fails to open by a certain point, the reserve chute will automatically deploy. Also, Lee doesn't hesitate to postpone jumps if any factors such as weather can affect the jump.
"Safety is the first priority," said Lee. "We follow  basic USPA safety requirements, because we don't have as many outs (landing options) as inland areas."
Lee's team is one of just a handful nationwide that is allowed to lead jumps that actually land right on the beach, making a memorable experience even more unique, thrilling, and breathtaking. From 10,000 feet, jumpers can see the coast curving all the way from Paso Robles to Santa Barbara on a clear day. It's miles of blue sea, sand dunes, and rolling green hills stretched to the horizon at the edge of the Earth.
"It's the best view in the world," said Lee.
The whole process to experience the epic beauty and intense adrenaline rush of skydiving takes roughly four hours. Upon arriving at the business, first-timers (the bulk of Lee's business) watch a brief video and spend time with the instructors. Once they understand the procedures and risk, they fill out some paperwork and head to the airport where The Orange Pumpkin, a 206 Cessna, is waiting. Jumpers board the plane for a 20-minute tour over the Pismo Beach dunes as the plane reaches the right elevation and circle around to the drop zone. In a plane full of apprehensive jumpers, that half hour is generally tense but exciting.
"That thrill and danger is there, but really, the way people drive is less safe than skydiving," said Lee.
The build-up can be nerve racking, but after the leap, the fear is replaced with fun. After a brief but exhilarating free-fall, the tandem master pulls the rip cord to release the parachute, giving the pair of jumpers five to seven minutes to take in the amazing scenery as they drift gently down to the beach. Jumpers can either relax and enjoy the ride or ask the assist the tandem master in controlling the toggles so that they can spin and swoop through the sky, seeing 360-degree views of the Central Coast. Landing on the sands of Pismo Beach feels a lot like jumping off a table chair, except that you know you were 10,000 feet in the air less than ten minutes prior.
Video and photography packages are available to capture this unforgettable experience. Jumpers must be 18 or older and weigh less than 240 pounds. To make a reservation, call (805) 481-JUMP (5867) or visit skydivepismobeach.com. Advance notice is preferred, but walk-ins are accepted at the main office, located at 201 W. Grand Avenue. Wear comfortable, layered clothes with close-toed, lace-up tennis shoes, and bring a thirst for adventure.
"It's something everyone should try, something to scratch off that bucket list," said Lee.
– Nick Powell
comments