SLO County Visitors Guide is distributed to visitor hot spots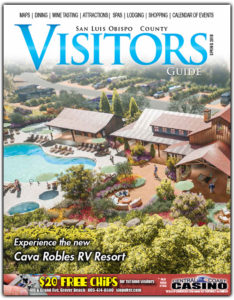 Every quarter, 35,000 of the San Luis Obispo County Visitors Guide are delivered to over 675 locations around the county, making it the most widely-distributed guide in SLO County. The heaviest distribution is to hotels and motels who place copies in their guest rooms for arriving travelers and at their concierge desk. Other popular distribution locations include restaurants, wineries, visitor centers, chambers of commerce, Realtors' offices, and the California Welcome Center.
The guide is also mailed, upon request, to hundreds of travelers planning visits to the county. A copy can be requested by clicking here.
To request copies for distribution, or increase the number of guides being delivered, contact us here.
SLO County Visitors Guide delivery list
Where can you find a copy of the SLO County Visitors Guide? Here is a current list of distribution locations. We take it to where the tourists are! A new guide is published every February, May, August, and November, for each season.
Arroyo Grande
A Glance Into The Past Antiques
Arroyo Grande Chamber
Auer Real Estate
Betty's Field
Blankenburg Properties
Casitas of Arroyo Grande
Cypress Ridge Golf
Doc Burnstein's Ice Cream
F. McLintocks
Monarch Dunes Resale Team
Posies
Premier Inn
Rainbow Ventures
Something Different
Talley Vineyards
The Hive
Village Papery & Gifts
Atascadero
Academe Real Estate
Ancient Peaks Winery
Atascadero Chamber
Atascadero Kayak & Sail
Atascadero Mission Cottages
Atascadero Printery Foundation
Atascadero Zoo
Best Western Colony Inn
Carlton Hotel
Central Coast Food Tours
Century 21 Hometown Office
Chalk Mountain Golf
City of Atascadero
Fossil Wine Bar
Golf and More
Guest House Grill
Holiday Inn Express & Suites
Kochi BBQ
Kochi Korean BBQ & Shabu Shabu
Kula Vineyards & Winery
Margarita Adventures
Marston's 101 Restaurant & Cocktails
Mira Vista Apartments
Nichols Winery & Cellars
Outlaws & Overland
RoCoco Luxe Boutique
Spring Hill Suites
Streetside ale House
Sylvesters
The Artery
The Barn Antiques
The Hope Chest Emporium
The Tea Trolley
Vino Inn
Avila Beach
Alapay Cellars
Avila Beach Golf
Avila Beach Central Coast Aquarium
Avila Hot Springs
Avila Lighthouse Suites
Avila Valley Barn
Avila Village Inn
Peloton Cellars
San Luis Bay Inn
Sinor-Lavallee Wine Company
Sycamore Mineral Springs Resort
Cambria
A Matter of Taste
Ball & Skein & More
Best Western Fireside Inn
Black Hand Cellars
Blue Bird Inn
Blue Dolphin Inn
Breen Vacation Rental
Cambria Chamber
Cambria Coffee
Cambria Historical Museum
Cambria Landing Inn & Suites
Cambria Nursery
Cambria Palms Motel
Cambria Pines Lodge
Cambria Vacation Rentals
Captains Cove Inn
Castle by the Sea
Creekside Inn
Cutruzzola Vineyard
El Colibri Hotel & Spa
Evans & Gerst Antiques
Fermentations
Fog Catcher Inn
J. Patrick House
Las Cambritas
Laura McKinney & Leslie Doughtry-Barnes & Associates
Maddie Mae's Pet Pantry
Madeline's Restaurant
Moonstone Beach Bar & Grill
Moonstone Landing
Olallieberry Inn
Pelican Cove Inn
Richman Poorman Antiques
Rigdon House
Robins Restaurant
San Simeon Pines Resort
Sand Pebbles Inn
Scenic Coast Property Management
Sea Otter Inn
Stolo Family Winery
Teresabelle Gallery
The Central Coast Renaissance Festival
The Garden Shed
The Little Sur Inn
The Sea Chest Restaurant
The Sows Ear
The Vault Gallery
Therapy By The Sea
Cayucos
Beach Bums Bevs & Bites
Beachwalker Inn
Cabana Jewelry & Gifts
Cass House Cayucos
Cayucos Beach Inn
Cayucos Motel
Cayucos Pier View Suites
Cayucos Sausage
Cayucos Sunset Inn
Central Coast Real Estate
Cypress Tree Motel
Donovan James
Estero Bay Motel
Highway One Rentals
McLean Jewelry Designs
Ocean Front Pizza
On The Beach Bed And Breakfast
Schooners Wharf
Sea Shanty
Seaside Motel
Shoreline Inn…on the Beach
The View Studio Suites
Cayucos Visitors Center
Grover Beach
805 Real Estate, Inc.
BJs Atv Rentals
Central Coast Casinos
Holiday Inn Express
Lasage Rv Park
Monarch Grove Winery
Natural Healing Center
Pacific Inn
Pismo State Beach Golf Course
Seaview Inn
Station Grill
Harmony
Harmony Cellars
Harmony Glassworks
Harmony Valley Creamery
Visitors Center in Harmony
Los Osos
Back Bay Inn
Baywood Tavern
Celias Garden Café
Kuma
Los Osos–Baywood Park Chamber
Morro Bay Luxury Rentals–West Coast Getaway
Sea Pines Golf Resort
Morro Bay
Anderson Inn
Art Center Morro Bay
Art Effects Gallery
Ascot Suites
Bayside Cafe At The Marina
Beach Bungalow Inn & Suites
Beads By The Bay
Best Western El Rancho
Best Western San Marcos Inn
Best Western Tradewinds
Blue Sail Inn
Blue Skye Café
Cal Limo Limousines
Comfort Inn
El Morro Masterpiece Motel
Embarcadero Inn
Estero Bay Graphics
Fireside Inn
Focus On Nature Photography
Gallery At Marina Square
Hofbrau
Holland Inn Motel
Inn At Morro Bay
La Serena Inn
Marina Street Inn B&B
Morro Bay Chamber
Morro Bay Drug & Gift
Morro Bay Golf Course
Morro Bay Sandpiper Inn
Morro Bay Tourism
Morro Bay Visitors Center
Morro Creek Ranch Avocados
Morro Crest Inn
Morro Dunes Rv Park
Morro Shores Inn & Suites
Museum of Natural History
Navigators Real Estate
Perfect Union
Pleasant Inn Motel
Rock View Inn
Sea Air Inn
Seaside Inn Morro Bay
STAX Wine Bar
Sundown Inn
The Bayfront Inn
The Landing
The Siren
Travelodge Morro Bay
Nipomo
Black Lake Golf Resort
Fredricks Law Firm
Kaleidoscope Inn & Gardens
Laetitia Vineyard & Winery
Monarch Dunes
Nipomo Chamber
Nipomo Orchids
Nipomo Properties
The Luffa Farm
Windmill Farms
Oceano
Coastal Dunes Rv Park
Oceano Inn
Old Juan's Cantina
Pacific Plaza Resort & Hotel
Steves ATV Rentals
Paso Robles
A Touch of Paso
Aaron Wines
Adelaida Cellars
Adelaide Inn
Al Lago Wines
Allegretto Resort
Alta Cresta
Amsterdam Coffee
Apropos
Asuncion Ridge
B&E Winery
Barr Estate Winery
Barrel House Brewing Co.
Barth & Associates
Barton Family Wines
Bella Jule Fine Jewelry
Benom
Best Western Black Oak Motor Lodge
Bestway Inn
Bianchi Winery
Big Bubbas Bad BBQ
Bodega De Edgar
Bodegas de Edgar
Bodegas de Paso Robles
Boyds Tobacco
Brecon Estate
Brian Benson Cellars
Brochelle
Broken Earth Winery
Budget Inn Of Paso Robles
Buona Tavola
Cabernet Links RV Resort
Calcareous
Cali Paso Winery
California Mid-state Fair
Caparone
Carmody Mcknight
Cass Winery
Cava Robles
Central Coast Lending
Century 21 Hometown Office
Changala Winery
Chateau Margene
Chronic Cellars
Cider Creek Bakery
Clark Company Ranch Real Estate
Clos Solene
Coldwell Banker Premier Real Estate
Cool Hand Lukes
Country Farm & Craft Market
Culton Wine Company
Cypher Winery
Dale Evers Design
Daou Vineyards & Winery
Dark Star
Deprise Brescia Art Gallery
Derby Wine Estates
Di Raimondos Italian Market
Diablo Paso
Dilecta
Doce Robles
Dubost Vineyard
Dunning Vineyards
Earth & Fire Brewing
Earthtones
Eberle Winery
Economy Inn
El Paso de Robles Area Historical Society
Eleven Twenty-Two
Ella's Vineyard
EOS at Firestone Winery
Ernest Hemingway Vineyards & Winery
Estrella Warbird Museum
Etto Pastificio
Field Recordings
Fish Gaucho
Four Lanterns Winery
Fratelli Perata
Gary Kramer Guitar Cellars
General Store
Giornata Winery
Glunz Family Winery & Cellars
Grey Wolf
Hacienda Del Suenos
Hammersky Vineyard
Hampton Inn & Suites
Hearst Ranch Winery
Heritage Ranch Owners Association
High Ridge Manor
Holiday Inn Express Hotel & Suites
Hope Family Wines
Hotel Cheval
Hotel Paso Robles Wine Country
Hotel Siri
Hoyt Family Vineyards
Hubba Wines
Hunt Cellars
Hunter Ranch Golf
Il Cortile Ristorante
J Dusi
J. Lohr Winery
Jacob Toft
Jada Vineyard
Jeffry's Wine Country BBQ
Justin Vineyards
Karma/ Concur
Keller Williams
Kiamie Wine Cellars
Kiler Ridge Olive Farm
Kindred Oak Farm
Kukkula & Jussila
L'Aventure
La Bellasera Hotel & Suites/Enoteca
La Cosecha Bar & Restaurant
La Quinta Inn & Suites
Le Cuvier
Le Vigne
Levo Wine
Lone Madrone
Marv's Pizza
McPrice Myers
Melody Ranch Motel
Michael Gill Cellars
Midnight Cellars
Mitchella Winery
Monochrome – Kaleidos – Turtle Rock
Naughty But Nice
Negranti Creamery
Nenow Family Wines
New with tags
Nicora Winery
Niner Wine Estate
Noble Goods
Odyssey World Café
Olivas De Oro
ONX Wines
Opolo Vineyards
Oso Libre
Oxford Suites
Paix Sur Terre
Pappy Mc Gregors
Park Street Gallery
Parrish Family Vineyard
Paso Market Walk
Paso Pizza Kitchen
Paso Robles Airport
Paso Robles Casino
Paso Robles Chamber Of Commerce
Paso Robles Childrens' Museum
Paso Robles Courtyard By Marriott
Paso Robles Golf Club
Paso Robles Inn
Paso Robles Inn Steakhouse
Paso Robles Library – City Hall
Paso Robles Main Street
Paso Robles RV Ranch
Paso Robles Vacation Rentals
Paso Robles Wine Country Alliance
Paso Terra
Paso Terra Seafood
Paso Underground
Pasolivo
Patterson Realty
Pear Valley Vineyard
Pelletiere Estate Vineyard & Winery
Penman Springs
Pianetta Winery
Pioneer Museum
Placer Title
Powell Mountain Cellars
Proulx
Rabbit Ridge
Rail Nap Vineyard & Winery
Rangeland Wines
Rassmussen Winery
Rava Wines
Re/Max Parkside Realty
Red Scooter Deli
Red Soles
Red Wing Horse Sanctuary
Relic's Antique Mall
Reminisce Antiques
Rio Seco Winery
River Oaks Hot Springs
Robert Hall Winery
San Antonio Winery
Sans Liege Wines
Sculpterra Winery & Gardens
Sea Shell Cellars
Sensorio
Serenity Spa at Kennedy Club
Serrano Wine
Sextant Wine
Shadow Run Vineyard
Shale Oak
Siegel's
Slo Sweets
Sole Tree
Stacked Stone
Stillwaters
Street Side Ale House
Studios On The Park
Summerwood Bed & Breakfast
Summerwood Winery
Taste in the Alley
The Alchemists' Garden
The Fableist Wines
The Oaks Hotel
The Piccolo
The Pour House
The Spa Central Coast
The Tap Room at Firestone Brewery
Thomas Hill Organic
Tin City Cider Co.
Tobin James
Tolo Cellars
Tooth & Nail Winery
Via Vega Winery
Vics Café
Villicana Winery / Refined
Vina Robles
Vines On The Marycrest
Vines RV Resort
Vineyard Antiques
Vista Del Rey
Vivant Cheese
We Olive
Whalebone
Wild Coyote Winery
Windermere Central Coast
Windward Vineyard
Wine Boss
Wine Country Rv Resort
Wine Shine
Yanagi Sushi & Grill
Zenaida Winery
Zoo To You
Pismo Beach
Ada's Fish House
Ashlie's Beach Shack
Beach Bum Rentals
Beach House Inn & Suites
Beachin Biscuits
Beachwalker Inn & Suites
Berkshire Hathaway
Brads Restaurant
California Welcome Center
Century 21 Hometown Office
Certified Folder Display Service Inc.
Chevron Gas Station
Coastal Connection Real Estate
Coastal Vacation Rentals
Coldwell Banker
Cornerstone Real Estate
Cottage Inn by the Sea
Cracked Crab
Dolphin Bay Hotel & Residences
Dolphin Cove Motel
Edgewater Inn & Suites
F. McLintocks
Hot Shots
Huckleberries Restaurant
Keller Williams Realty
Kon Tiki Inn
Madelyns Apparel
Motel 6
Ocean Palms Motel
Oxford Suites
Palomar Inn
Penny's All American Café
Pismo Beach Chamber Of Commerce
Pismo Beach Dive Shop
Pismo Bob's
Pismo Brewing
Pismo Coast Village Rv Resort
Pismo Fish and Chips
Pismo Lighthouse Suites
Pismo Welcome Center
Rosa's Restaurant
Sandcastle Inn
Scotty's Bar & Grill
Sea Crest Resort
Sea Gypsy Motel
Sea Venture
Seaside Gallery
Shore Cliff Lodge-Best Western
Splash Café
Spyglass Inn
The Cliffs Resort
The Inn at the Cove
Thomas Kinkade Gallery
Valentina Suites
Vino Versato- Puffers
Viva Mexico Mexican Restaurant
San Luis Obispo
7 Sister's Brewing
Americas Best Value Inn
Apple Farm Inn
Apropos
Avenue Inn
Baileyana Winery
Ben Franklins Sandwiches
Best Western Royal Oak Hotel
Big Sky Cafe
Cadre
Center of Effort
Central Coast Oyster Festival
Central Coast Priemier
Century 21 Hometown Office
Chamisal Vineyards
CLESI Wines
Coastal Delivery
Comfort Inn & Suites Lamplighter
Courtyard By Marriot
Crushed Grape
Crux Climbing Center
Dairy Creek Golf Course
Dairy Creek Golf Course
Doc Burnsteins
Econo Lodge
Economy Motel
Edna Valley Vineyards
Eureka Gourmet Burgers
F. Mcclintocks
Farrell Smyth, Inc.
Filipponi Ranch
Finders Keepers
Garden Street Inn
Homestead Motel
Hospice Du Rhone
Hotel Buena Vista
Hotel San Luis Obispo
HOTEL SLO
Kelsey See Canyon Vineyards
KIN Coffee Bar
Kynsi Winery
La Cuesta Inn
Los Padres Inn
Louisa's Place
Luna Red
Madonna Inn
Mama Ganache
Mama's Meatball
Mission Inn
Mountain Air Sports
Olive Tree Inn
Peach Tree Inn
Petit Soleil B & B
Powell's Sweet Shoppe
Quality Suites
Rodeway Inn
Salon 62
San Luis Creek Lodge
San Luis Inn & Suites
San Luis Jet Center
San Luis Obispo Airport
San Luis Obispo Chamber of Commerce Vistor Center
Sands Inn & Suites
Saucelito Canyon Vineyard
Sidecar
SLO Childrens' Museum
SLO Downtown Association
SLO Symphony
Splash Café
Stephen Ross
Sunbeam Motel
Tangent
The Bladerunner
The Graduate
The INN
The Kinney
Tolosa Winery
Traditions, San Luis Style
Train Station
University Inn
Urbane Café
Vagabond Inn
Villa Motel
We Olive
Wolff Vineyards
Woodstocks Pizza
Zocker
San Miguel
Bon Niche Cellars – Deanoux Cellars
Cinquain
Four Sisters
Graveyard Vineyards
Locatelli Vineyards & Winery
Lusso Della Terra
Mystic Hill Vineyard
Ranchita Canyon Vineyard
Riverstar
San Miguel Mission
Tackitt Family Vineyards
Villa San Juliette
Vino Vargas
San Simeon
Best Western Cavalier
Courtesey Inn
Days Inn
Quality Inn
Ragged Point Inn
San Simeon Chamber
San Simeon Lodge
Sands By The Sea
Sea Breeze Inn
Sebastian's Deli
Silver Surf Motel
The Morgan
Santa Margarita
Santa Margarita KOA
Shangri La
Kay Falerios
Shell Beach
CCRG Real Estate
Shell Beach Salon & Spa
Zorros Cafe & Cantina
Templeton
Adelaide Floral
AJ Spurs
Aron Hill Vineyard
Bovino Vineyards
Cancer Support Center
Castoro Cellars
Chulos
Clavo Cellars
Donati Family Vineyard
Dr. Mareeni Stanislaus
Epoch Estate Wines
Gail Kudlac
Hansen Winery – Cab House
Hidden Oak
Home & Ranch Sotheby's Intl Realty
Jack Creek Farms
Jacks
Lago Giuseppe Winery & Events
McPhees Grill
Olea Farm
Peachy Canyon Winery
Per Cazo
Pier 46 Seafood
Rocky Creek
Rotta Winery
Sarzotti
Seven Angels Cellars
Templeton Chamber
Templeton Market Deli
The Fableist Wines
Turley
Venteux
Wildhorse
Additional locations
Lake Nacimiento-Lake Restaurant, Bradley
Lake Nacimiento-Rental Office, Bradley
Mission San Antonio, Jolon
Tachi Palace Hotel & Casino, Lemoore
comments