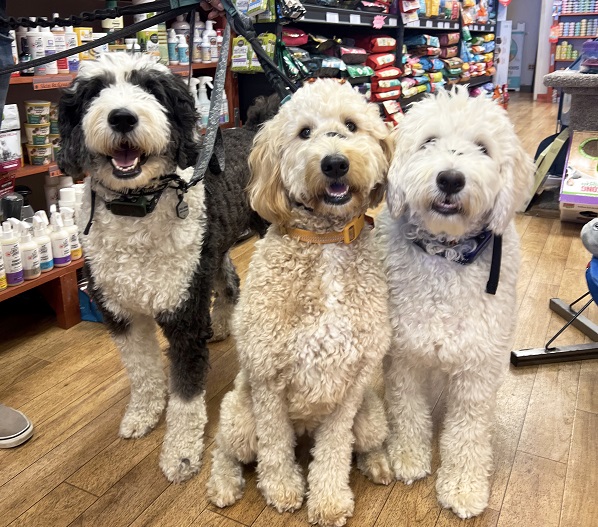 'Where happy and healthy pets shop'
—Pamper your pooches and kittens at Maddie Mae's Pet Pantry. Located along Main St. in Cambria, this boutique-style pet shop is fully stocked with all the latest and greatest in pet supplies. Adorn your furry friend with the most adorable accessories and watch them flourish with healthy treats, high-quality foods, and safe supplements. Their large selection is sure to please every breed.
Cambria is one of the most magical places to wander, with lots of unique shopping. It's full of mom-and-pop type shops and Maddie Mae's fits right in. Established in 2009, by Chad and Christie Carroll, Maddie Mae's Pet Pantry began from a love of the area and of their pets.
In 2009, the Carroll family lived in Seattle with their beloved Old English Sheepdogs, Maddie Mae and Duke. The Central Coast was a favorite vacation destination, which they both saw as their future home. Christie said, "We love the beauty and weather of the Central Coast and wanted to be a part of the community, where you know people and their animals by name." Maddie Mae's Pet Pantry has two additional locations in Templeton and Pismo Beach. All of the stores have been great successes with many repeat and regular happy customers.
Stop by Maddie Mae's for all of your grooming needs. Find products to help keep clean ears, eyes, teeth, noses, paws and coats. Traveling? Think of pet safety with seat belt restraints, calming remedies, lights, tie-out cables, cargo covers and more. Discover their many options for relief for common issues like itching, bladder infections, sore joints, vomiting, constipation, etc. Find comfortable beds and a wide selection of toys. Make training a breeze with popular training aids like whistles, clickers, collars, harnesses and sprays. Maddie Mae's carries only the highest quality food and treats, made in the U.S.
"We care deeply for animals and are committed to providing education and information to help our customers ensure the optimal health and well-being of their furry family members," said Christie. "We are very involved in our community by supporting and donating regularly to local non-profit organizations like The Girl Scouts, pet rescues, and disaster victims. "Maddie Mae's Pet Pantry is where the happy and healthy pets shop. If we won't give it to our furry friends, we won't give it to yours!"
Maddie Mae's Pet Pantry is located at 614 Main St. in Cambria, at 1121 Rossi Rd in Templeton and 571 five Cities Dr., in Pismo Beach. All locations are open 7 days a week from 10 a.m.- 6 p.m. For more information, visit www.maddiemaespetpantry.com or call (805) 924-1139.
—Cassandra Frey
comments