Pismo Brewing Company, located just off the beach in downtown Pismo Beach, began as a side project to owner and Brewmaster Tim Moscardi's other side project—fixing up old cars. In fact, Tim's hobby of working on old cars helped his brewing hobby become what it is today. When it became time to expand his brewing practice Tim sold a '38 Ford to buy a larger, seven-barrel pump system when he outgrew his one-barrel system.
Now, Pismo Brewing Company occupies a prime location in downtown Pismo Beach, with views of the pier and the ocean. For owners Tim and Melissa Moscardi this is the perfect culmination of their vision of Pismo Brewing Company. Melissa says that they chose Pismo Beach for their brewery because they wanted it to be in a small town, and wanted a beach vibe. Pismo Beach still feels like a classic California surf town, and people visit from all over the country and the world.
Pismo Brewing Company has a small-batch brewing space right on site. They offer five beers on a regular basis, as well as some rotating special beers.
The five main beers served at Pismo Brewing Company are: the Bootlegger Blonde Ale, the Pismo Pale Ale, the Roadster Red Ale, the Bolina Brown Ale and the India Pale Ale2. Special beers include a stout, a strawberry blonde and a whiskey barrel aged blend called the Red-Eye PA.
Pismo Brewing Company's menu offers food that enhances the beer-tasting experience. Melissa lists Wahoo fish tacos with cucumber-wasabi salsa as her favorite pairing with either their Bootlegger Blonde Ale or their IPA. They also serve a stout-marinated Beer Brat and stout-chili.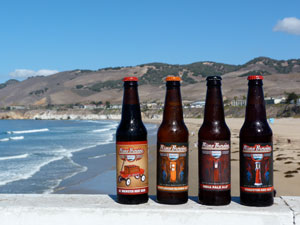 The tasting room is family friendly and the outdoor patio welcomes our four-legged friends. The tasting room's location on Cypress Street is relatively new, and the patio has been a big hit.
Melissa also says that their customers have responded very well to Pismo Brewing Company's aesthetic, which incorporates classic car elements. The connection with the classic car styling is both to Tim's interest in classic cars, as well as Pismo Beach's classic beach town style. Pismo Beach hosts a very popular classic car show each year. Pismo Brewing Company also offers live music on Saturdays, and is a place to watch football on Sundays, Mondays and Thursdays.
Pismo Brewing Company is located at the heart of Pismo Beach, and reflects the spirit of the town. Pismo Brewing Company is striving to be an integral part of the laid-back, family-friendly history of Pismo Beach—and it appears to be succeeding!
Pismo Brewing Company is located at 500 Cypress Street in Pismo Beach and is open on Monday – Wednesday from 2 p.m. – 8 p.m., Thursday – Saturday from 11 a.m. – 10 p.m. and Sunday from 11 a.m. – 5 p.m. Call (805) 295-6200 or visit pismobrew.com for more information.
– Kate Joyce
comments