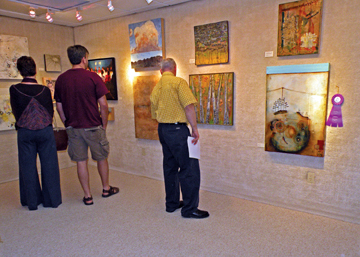 For 60 years the Art Center at Morro Bay has been gallery home to local artists and beyond. This large exhibit space located on Main Street in Old Town Morro Bay is run by the Morro Bay Art Association and is a hub for fine art on the Central Coast.
In the beginning there was no gallery. In 1951 a small group of artists who hungered for a way to let the public see their work banded together and used whatever space they could for a show. They even hung their paintings outside on the neighborhood trees, which of course allowed passersby full view of their art. Eventually the opportunity to purchase the building where they are now located in downtown Morro Bay became available, and the association finally had a permanent home.
Currently there are 200 members who may show up to three pieces in each show and there are eight or nine shows a year. With two spacious galleries in the building the association is able to showcase a wide variety of mediums. It is all original artwork from local artists. There is one special exhibit a year that brings in pieces from national and international artists. In 2012, in either late May or early June, the Pastel Society of the West Coast will be featured in the exhibit.
This year is the 60th anniversary of the association and current President Flo Bartell hopes to be able to exhibit the first painting that a variety of past presidents had exhibited at the gallery. Scrapbooks reflecting the time period from 1951 to 1971 will also be on display. A reception entitled "Looking Back" will be held at the gallery on September 18th and it is open to the public.
On the second Monday of the month a demonstration by a local artist takes place at 3 p.m. Refreshments are served.
Bartell is in her third year as President and works avidly at marketing the Art Center. "We've made significant changes in the past few years," she said. "We changed the name to Art Center Morro Bay and painted the building a catchy purple color so it would stand out on the block."
The Center offers many classes and workshops for the public. An oil and acrylic class taught by artist Jason Mayr is offered on Mondays from 9:30 a.m. to 1:30 p.m. Kathy Miller presents watercolor classes on Thursdays from 9 a.m. to 1 p.m. Both classes are $25 per session.
Creativity Days are free and fun sessions on Wednesdays from 10 a.m. to 3 p.m. Anyone can attend with their own projects and materials.
Upcoming workshops with area and regional artists will feature paper dolls and stacking dolls in August, and soft pastel in October. A multi-media workshop by Joan Scott is also planned for fall.
Children are not forgotten either. Art Camp is offered in summer months and there are free clay classes for eight to 14 year olds. Plans are also in the works for classes for children ages six to eight.
"In October we will have an art contest for children," Bartell said, "and information about it will be available in area schools, libraries, and in local newspapers. It is a county-wide contest for ages five to 14 with prizes in several categories."
The Art Center sponsors Art in the Park held in City Park on Memorial Day weekend, July 4th weekend, and Labor Day weekend. It also is the sponsor for the annual Morro Photo Expo to be held in 2012 on March 31-April 1.
Perhaps unknown to most is the fact that proceeds from the sale of art at the gallery and from Art in the Park goes to fund scholarships for local college and high school students. "We've funded more than $10,000 to a number of students each year," Bartell commented. In mid-November students participate in the Annual Student Scholarship Show.
Anyone can join the Morro Bay Art Association. Family and Single memberships are $25 with Business at $18 and Students at $12 per year. Members who display also work as docents at the gallery and open hours are from noon to 4 p.m. daily.
— Ruth Ann Angus
comments