Among the little shops on the Embarcadero in Morro Bay are an assortment of really fine art and craft galleries. One of the best and most interesting is the Gallery at Marina Square. Go upstairs and you will find two large gallery sections filled with oil and watercolor paintings, fine photography, jewelry, glass blown figurines, fabric art, sculpture, woodcrafts, cards, notes, bookmarks, magnets, mugs, and trivets. What makes this gallery special is that it is all work from local, professional, award winning San Luis Obispo County artists. Also making it special is how it is run for the artists.
The gallery came about eight years ago when a group of artists who belonged to a co-op in San Luis Obispo decided they wanted something more where they could show their work, sell it, and offer a unique and diverse art experience to the public. They chose to do this in Morro Bay at a location that draws people visiting the Central Coast from all over the world, Marina Square. The actual business is owned by Nona Jane Siragusa but is run by a hub of artists that act as its board of directors. Each hub member has a distinct responsibility, such as marketing, which Patricia Newton handles.
Space in the gallery is rented as it becomes available and Siragusa makes the decision for inclusion in the group. Price for a space is governed by its size. Each artist is required to work at least one day a month selling all the pieces in the gallery. Artists with more extensive exhibit space work more days. The gallery retains 35% of sales and this money goes towards rent, upkeep of the area, supplies, and advertising. Artists pitch in to pay for a variety of advertising that the gallery places in many local publications and in so doing a photo of their work is used in the ad.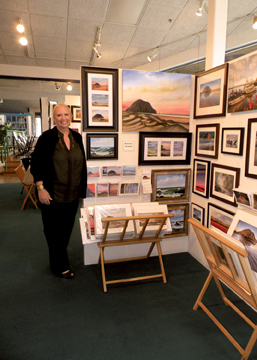 Once a month an artist is featured in a month long show, and a reception, open to the public, is held on the second Friday from 5 to 8 p.m. Food and non-alcoholic drinks are served and musical entertainment is supplied by guitarist, Michael Swanberg.
In August mixed media artist Don Doubledee and photographer Karen Peterson will be featured in a show entitled "California Dreaming." Doubledee commented that participating in the gallery is like being in a family. "Everyone helps each other," he said, "whether it's with framing a piece, or marketing ideas, or help with their presentation."
Along with member shows, there is also a featured guest artist who may or may not be local. Guest artists are supplied with a large wall space to hang their work in the second room in the upstairs location that is adjacent to the original gallery space.
Featured artists in September will be photographers James Crawford, Laura Dienzo, and Robert Taylor. A local life drawing group will be guest artists in October and featured artist will be watercolorist, Susan Wood.
"We all produce both large and small work," Patricia Newton commented, "and we advise new artists to produce smaller things because these are the types of items that sell well, especially since tourists are our main clientele." So you will find note cards of the larger paintings in the gallery at most of the spaces along with other smaller items to choose from. "I think the prices are reasonable for the quality of art offered here," Doubledee said, "and it is all work that reflects the nature of the area."
The Gallery at Marina Square is open daily from 10 a.m.to 6 p.m. at 601 Embarcadero #10, Morro Bay, (805) 772-1068.
— Ruth Ann Angus
comments