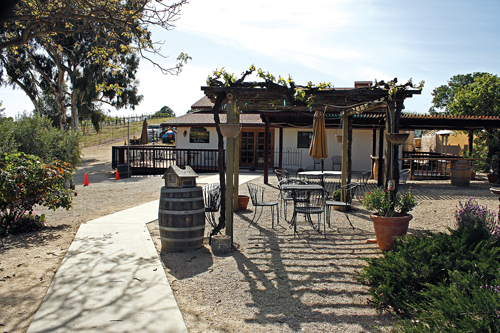 Find bold Italian-style wines at Fratelli Perata
Turning off of Highway 46 onto Arbor Road one enters the rolling hills of the west side of Paso Robles. The pavement doesn't last long, continue on to the dirt lane winding past acres of vineyards edged by old oak trees. This is the same path that brothers Gino and Joe Perata drove down in 1977 as they searched for just the right location for their vineyard. The story really doesn't start there – it starts back in Italy where Giuseppe Antonio Perata lived and learned winemaking from his father and the importance of the pairing of wine and food. That is the Italian way.
Family of winemakers
At 16 years of age, in 1930, Giuseppe came to the United States and went to farm with his uncle in Ventura County. But winemaking was always in his heart. Flash forward to his sons Gino and Joe who were following their own paths. Farming was far from Gino's mind as he pursued a master's degree in sociology at Washington State University, but winemaking, which he too had learned from his father Giuseppe, was a part of him.
Gino met his wife, Carol, at the University. They joined with Gino's brother Joe during the late 1970s looking for a site to put in a vineyard. A drive down Arbor Road in Paso Robles gave them a good feeling and after bringing Giuseppe to view the land, they were convinced because he commented that the area reminded him of Genoa. They purchased the hillside site with the expansive view and never looked back.
Tasting room & vineyards
The tasting room is surrounded by vineyards, with a white gazebo that allows for vast miles of viewing and an arbor-covered courtyard with seating. Inside, a mural depicts the vineyards, winery, and all of the members of the Perata family involved in the winemaking process. At the tasting bar, enjoy wine pouring, learn about their characteristics and hear suggestions for food pairings – the Perata's have a philosophy that wine should always be paired with food.
Fratelli Perata vines are dry-farmed, deeply-rooted, and are cultivated for small berry size with a higher skin to pulp ratio that gives the wines a full flavor. Yields depend on the amount of rain that falls each year in the Paso Robles area. The winery currently produces 10 varietals, one Rose, three blends, and two tiers of Cabernet Sauvignon for a total of 2,000 cases yearly.
The Fratelli Perata Winery tasting room, located at 1595 Arbor Road in Paso Robles, has limited hours – please call ahead to (805) 238-2809 before visiting. For more information, go to fratelliperata.com.
– Ruth Ann Angus
Subscribe to weekly travel news
comments