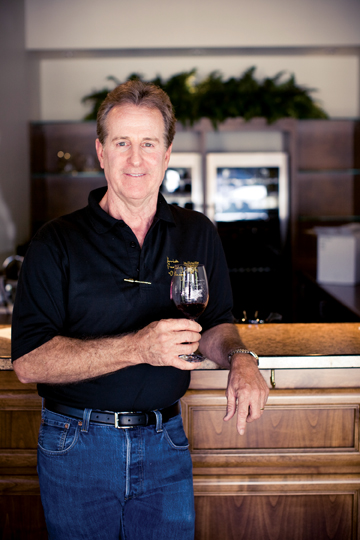 Local history, family and Cabernet Sauvignon are the passions driving the people and wines of Parrish Family Vineyard: a family dedicated to the details in each handcrafted wine in their portfolio and each vine planted to their local vineyard.
It all began in 1927 when the owner's grandfather, Earl Henderson, came to Atascadero as a request of EG Lewis, founder of Atascadero. Earl was called upon to share his agriculture and viticulture knowledge with the forming town of Atascadero. Once here, Henderson planted over 500 acres of wine grapes including such varieties as Charbono, Alicante and Zinfandel. As one of the founding fathers of Atascadero, Earl Henderson received the first P.O. Box in Atascadero – P.O. Box 1. Parrish Family Vineyard pays tribute to David Parrish's grandfather through one of their labels, appropriately named, P.O. Box 1. Today, you can visit Earl Henderson's original homestead in Atascadero as it is now home to the Atascadero Historical Society Museum.
Owner David Parrish is no stranger to the wine industry. As a child, David would follow his grandfather around the vineyards, soaking up his vast viticulture and agriculture knowledge. This was a time for David to learn the ropes and an opportunity to form a close bond with his grandfather. After graduating from UC Davis, it was not long until David would become immersed into the industry where he has spent the last 35 years. David was in his 20s when professors at UC Davis learned of a kiwi trellising system he designed which is now the standard within the kiwi industry. The professors asked David to help develop a research vineyard containing a variety of trellising styles for the wine grape industry. That project launched David's career into the viticulture industry where he has designed trellising systems for renowned vineyards throughout the world.
After years of developing vineyards for acclaimed wineries such as Robert Mondavi Winery, Sterling Vineyards and Beringer Winery, planting a 40-acre vineyard in 1995 was a natural step for David Parrish. Planting the family vineyard was an opportunity for David to combine his love for the Paso Robles region and his extensive wine grape growing knowledge in a location that is meaningful for his entire family. The 40-acre vineyard lies within a 170-acre ranch located near Creston. Planted strictly to Cabernet Sauvignon, the vineyard consists of four different Cabernet Sauvignon clones grafted onto two different root stocks. Cabernet Sauvignon clones found within the vineyard are clones 4, 6, 7 and 337.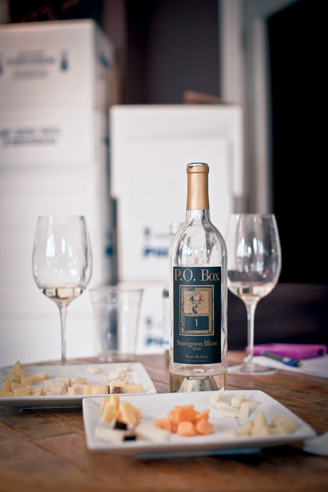 In 2004, David Parrish began to craft wines from the Parrish Family Vineyard. Today, the winery produces just over 1000 cases of wine. The goal of the family is to continue to maintain a small case production to truly focus on the quality of the wine through winemaking techniques and vineyard practices. Though the Parrish Family is passionate about Cabernet Sauvignon, a Bordeaux variety, the winery does craft Burgundian and Rhône variety wines for their portfolio. Seven wines total are made between the two distinct labels at Parrish Family Vineyards – P.O. Box 1 and Parrish Family Vineyard.
The wines distinguished by the P.O. Box 1 label pay homage to David's grandfather, Earl. Wines within this label are handcrafted from fruit sourced from sought after vineyards located within the Paso Robles and Monterey AVAs. Varieties found within the P.O. Box 1 lineup are Sauvignon Blanc, Chardonnay, Pinot Noir, Petite Sirah and a Rhône styled blend of Grenache, Syrah and Mourvèdre. Wines sporting the Parrish Family Vineyard label boast estate fruit from the family's 40-acre vineyard near Creston. Both labels are made with extensive attention to detail as the family's goal is to create wines for people to enjoy with their own friends and loved ones.
It is only fitting that a family with such deep roots in the area have a tasting room in the heart of downtown Paso Robles. To tantalize palates with their wines, the family opened a tasting room in beautiful downtown Paso Robles; it is a quaint environment where guests are encouraged to relax in lush leather couches or at the tasting bar while enjoying a flight of the Parrish Family wines. One can also take in a carefully studied wine and cheese pairing created by Vivant Fine Cheese. The outdoor patio is the perfect retreat for patrons to soak up the unique atmosphere found in downtown Paso Robles while savoring the artisan wines of Parrish Family Vineyard.
Driven by the family's passion for the Paso Robles region along with their historical roots within the area and viticulture industry the Parrish Family strives to be stewards of the land and community. Their aim is to maintain the character and integrity of each variety bottled within their portfolio. They follow this philosophy to not only carry on the legacy of their family but to craft artisan wines for years to come in an area they call home, Paso Robles.
To taste these boutique wines and to meet the people behind the label, visit the Parrish Family Vineyard tasting room off the park in downtown Paso Robles at 1220 Park Street from noon to 6:00 p.m. Thursday thru Monday. Tasting fee is $10 or complimentary with your purchase of wine. To learn more about Parrish Family Vineyard, their historical roots and passion visit their winery website at parrishfamilyvineyard.com.
— Faith Wells
comments