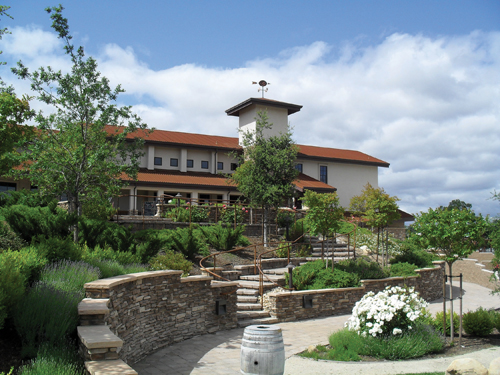 Elegant surrounding for fine wine
Eos, Greek goddess of the dawn, has been the namesake heroine of Eos Estate Winery in Paso Robles since 1985, when it was founded by the greek Arciero family. But the moniker has perhaps never been quite so apropos as it is today.
Recent changes, underway since the winery was folded into the highly-reputed Foley Family Wines portfolio in 2010, suggest that the sun is rising on a whole new era at Eos Estate Winery.
Eos Hospitality Manager Katy Smith, who has been with the company for eight years, explains that under the stewardship of Bill Foley, Eos's iconic Paso Robles brand has experienced a revival. The subtle, yet sophisticated transformation began with moving of the winery and tasting room just a few miles from their original location to a new facility at 2300 Airport Road, right at the intersection with the busy wine trail that is Highway 46 East.
In addition to a prime, street-view perch, the new setting offers a tastefully appointed tasting room, well-stocked gift and merchandise section, covered picnic area, scenic wine country views and capacity for private events and weddings.
The facilities are not the only elements that received a bit of a lift lately, however. The shift toward a more unified, fresh face continues with the winery's brand new branding campaign. Described by marketing manager Mia Morelli as a "completely revolutionary change," the bold logos featured on their soon-to-be released 2009 vintages aptly underscore the company's new turn toward a more clearly focused image and portfolio of wines. "One of the things we wanted to do [with the rebranding] is simplify and be very straight forward," Morelli says.
The newly reordered Eos house is now best defined by its two major tiers of wine: the 2009 Eos Estate wines, which focus on Paso Robles varietals, and the Eos Reserve tier, which has an exciting Zinfandel series on the horizon. This new portfolio of winning Zins showcases a variety of California appellations, such as Paso Robles, Napa Valley, Dry Creek, Russian River Valley and Amador County, allowing visitors to the tasting room the unique opportunity to explore California wine country by comparing the influences of various terroirs on a single varietal.
"Zinfandel is a great Paso red, for sure," Morelli says of their decision to focus in on Zin. "It's a fun varietal, a California varietal. It sort of organically evolved that it was going to work out to do something special [with Zinfandel] for our reserve tier."
Eos also offers Estate Petit Sirah, Cabernet Sauvignon and Chardonnay. But, for those who have always had a sweet tooth for Eos's distinct dessert wine program (Eos is one of few wineries to offer a sweet-wine specific wine club), the popular Port and Tears of Dew Muscat will be continued under the winery's new management, and a new Botrytised Semillon will also be added.
The continued dedication to these "extreme sweet wines," as Smith calls them, proves yet another way the winery truly earns its mythic moniker: to be sure, there is nowhere else in Paso Robles where a mere mortal can come so close to drinking the nectar of the gods as she does with a sip of Eos' divine dessert wines.
Greet a new day at the Eos tasting room, located at 2300 Airport Road in Paso Robles, open daily from 10 a.m. to 5 p.m. For more information about the winery, call (805) 591-8050 or visit eosvintage.com.
— Jamie Relth
Subscribe to weekly travel news
comments