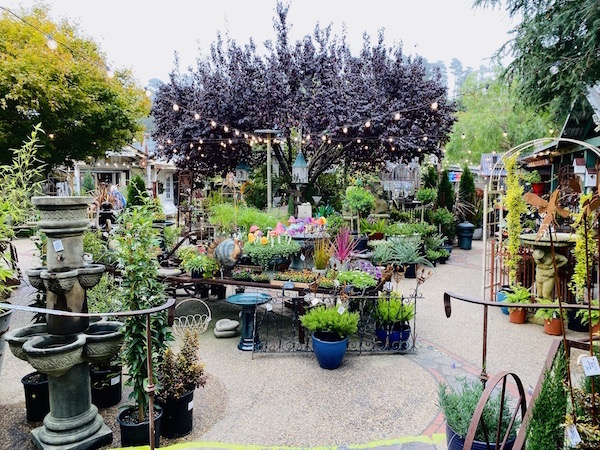 The mini-mall of quaint cafes, shops, and businesses is a must-see
—Calling all garden lovers! The Garden Shed on Main Street in Cambria is full of an ever-changing inventory of garden and home accessories. Take a relaxing stroll through the back patio and explore several great shops where guests can find exotic succulents, women's clothing,  home decor and local art.
Delight in the many gifts and unique items and see fun displays filled with great collections. Something sweet is hidden around every corner! The Shops At The Garden Shed include seven businesses:
Cambria Garden Shed, Lily's Coffee House, Cayucos Cellars, Ocean Heir, Simplistic Home, Grow nursery and Art with Judy Ann.
Cambria is the not-so-secret spot to go for an unforgettable mellow vacation. It is a small town where the locals are quite friendly and you'll notice that people tend to wave and smile at each other. Visitors enjoy a day at the beach exploring tide pools, moonstone hunting, hiking trails, or seeking out the many wonderful shops, galleries and cafes.
The Garden Shed is located in "Midtown Cambria" on Main Street. Customers can start the morning at Lilys Coffee House, explore The Garden Shed and the shops of the courtyard, and end the afternoon at Cayucos Cellars for a glass of Central Coast wine.

The Garden Shed is located inside an old 1890s creamery building. At one point, it served as the town hall, where many community decisions were made. Nowadays, the Garden Shed is known for its emphasis on outdoor living and as a place to pause and slow down.
Before starting Cambria Garden Shed, owners Ashley and Lucky Gracey had backgrounds in retail and landscaping. In 1998, the couple opened The Shed, fulfilling their dreams of sharing the outdoors together every day. "Our aim has always been to keep the loveliness of nature and gardens in our shop space. We love the ideal weather of the Central Coast, and the abundance of songbirds, deer, and wildlife found in this area," said Ashley.
Cambria Garden Shed has offered Cambrians unique finds and merchandise found nowhere else on the coast since first opening its doors. They carry new and vintage pieces for the garden and home. Old farm tables and cupboards display the goods and visitors find rustic farmhouse decor around every corner. The owners have an eye for high-quality goods, such as leather gloves for gardening, hand tools from Holland, and lotions that will heal dry hands. Cambria Garden Shed always has an abundance of one-of-a-kind pottery, great fountains and a warm and inviting atmosphere.
The shops have inspirational pieces for everyone, and the staff is ready to help find that special something. Customers can find pleasure while listening to local guitarists and musicians who stop in regularly to perform. Cambria Garden Shed is the perfect place to take a break from life, relax, and socialize while enjoying a little inspiration.
The Shops at the Garden Shed are located at 2024 Main St. in Cambria. Open daily from 10 a.m.- 5 p.m. For more information, call (805) 927-7654 or visit www.cambriagardenshed.com.
– Cassandra Frey
comments