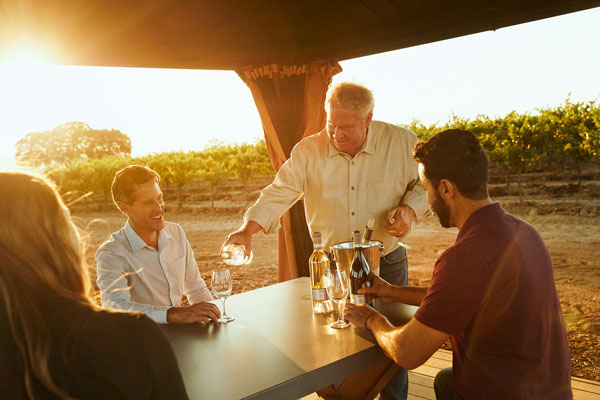 A history of hard work
– Robert Hall winery began with the vision of one man and has since become one of the most widely recognized and beloved wineries in Paso Robles wine country. Founder Robert Hall was a self-made businessman originally from St. Paul, Minnesota, who started and grew a broad range of businesses throughout his life. Hall says he always had a life-long passion for wine and the winery lifestyle. His success in business afforded him the ability to venture out west in search of the perfect landscape, and the perfect partner to help him realize his winemaking dream. Enter winemaker: Don Brady.
Working hand in hand with Hall, Brady's skill and devotion to Paso Robles was instrumental to elevating the valley's status as a premier winemaking region, and even helped establish the region as a distinct AVA in 1983. Since then, Robert Hall wines have earned countless awards and global recognition.
Indeed, the winery and the success of the region, are due to the dedication, vision, and hard work of men like Hall and Brady, which no doubt inspired the slogan for Robert Hall wines, "The Good Life. Well-Earned." Hall and Brady continue to craft wines worthy of toasting to that motto.
New at the winery
The winery has announced the reintroduction of their popular Estate Vineyard tours starting this spring. Guests can learn about the history of Robert Hall Winery and the current state of the vintage and will explore the estate vineyards, learning about Paso Robles as a region and the winery's exciting new regenerative farming practices program. Guests will then finish the tour with a private seated tasting in the Monahan Vineyard and paired accompaniments created by Chef Michael. The tour takes two hours and is $75 per person (max. 5 people). Visit Roberthallwinery.com and click the "visit us" tab to make a reservation or call the winery. The winery also offers wine and food pairing, available Wednesday-Sunday from 11 a.m.- 2:30 p.m., as well as an a-la-carte food menu and special barrel tastings by reservation.
Also new this spring is a new sparkling wine, the 2020 Cavern Select Sparkling Grenache Blanc. "This sparkling Grenache Blanc (method traditional) is the result of our talented winemaker unlocking the potential of one of our favorite varietals," said Caine Thompson, managing director for Robert Hall Winery.
Robert Hall Winery is located at 3443 Mill Rd. in Paso Robles. The tasting room is open daily from 10 a.m. to 5 p.m. (Last tasting offered at 4:30 p.m.) Dogs are welcome on the patio. Reservations are recommended to ensure availability – please call for groups of six or more guests. Visit Robert Hall Winery online at roberthallwinery.com or call (805) 239 1616 for more information or to make a reservation.
-Skye Pratt
comments