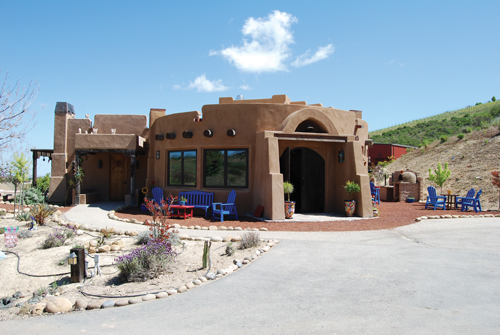 Check out their new and expanded tasting room
If you take one type of wine grape and grow it in many different regions, you will not produce the same wine from each location. This is the basic idea behind the notion of terroir, a French word describing the unique tastes and characteristics that develop in a wine as a result of the distinctive climate, soil, topography and even stylistic choices of the farmer and winemaker that made it.
This idea is one of the essential qualities that has made wine so revered: it means that when you drink a particular vintage, you are actually tasting a one-of-a-kind amalgam of a particular time and place that could not be duplicated elsewhere—which makes the experience more special, more personal.

That's the idea, anyway.
According to Gianni Manucci of Wild Coyote Estate Winery, however, while many wineries may talk about terroir, very few actually produce single varietal wines made entirely of a single type of grape, from a single location. He explains that according to government regulations, a bottle that is labeled "Cabernet Sauvignon," for instance, need only be made of 75 percent of that grape varietal to be labeled as such. Many wineries, he says, take advantage of this loophole and slip in other varietals according to their needs without stating so.
Okay, so there is a bit of Merlot rounding out your Cab—does it really matter? Yes, it does, to Manucci. "It's like if you buy a hamburger that says it's 100% beef," he says. "What if you found out that it's 25% cat meat or dog meat?" The comparison may be a little extreme, but Manucci maintains that drinking a true varietal wine makes a difference. It means "You're drinking something that's solid, that's pure," he says. He points out that many wines are made from bulk wine or from grapes shipped from one area to another, yet these details are not necessarily conveyed to the consumer. "It's kind of misleading. When you produce a product you should tell the consumer where it comes from, from start to finish. It's the honesty that's important to me."
Clearly, Manucci is a big believer in authenticity. To prove it, the European-born winemaker became one of the first US wineries to adopt the European model and become Designation of Origin Controlled & Authenticity Guaranteed. He says this means, essentially, that the wine comes from one place, and there is one person controlling the whole process, from vine to bottle—"and that's me."
The dedication to transparency and authenticity continues in Manucci's vineyard techniques and winemaking practices. He restricts his vineyards, for instance, to dry farming, low production yields (2-3 tons per acre) and hand-harvesting, and allows for a higher-than-average sugar content, resulting in higher alcohol wine. These austere methods limit his production and force him to pay higher taxes (due to the greater than 14% alcohol they often contain)—but he makes the sacrifice in order to produce a richer, truer wine.
Just as his grapes are an expression of his philosophies and his land, so is his newly expanded tasting room a reflection of his unique and artful vision.
Larger and more open in layout, the new space includes a commercial kitchen and an outdoor kitchen with a barbecue area and pizza oven, and allows for a greater variety of events for his guests, whether wine club members or visitors staying at the property's five bed & breakfast casitas or guesthouse. But while any tasting room might offer such amenities, none looks quite like Manucci's. Fitting in with the surrounding village of buildings he has created, the tasting room design and décor has a distinct southwestern flavor and brims with one-of-a-kind pieces of art, some of which were also created by the Manuccis.
"It's very artistic. Both my wife and I are artists by background, so we put our artistic spin on everything, from concept to design to construction," he says, pointing out art purchased from New Mexico as well as pieces done by his wife and the stone sculptures he produced. Retired barrels were used in the making of details like the shelves and light fixtures, and the unique circular bar was designed and built by a friend. "I don't think there is anything like it," he says.
And given Manucci's devotion to the truth, we don't doubt it.
Get a true taste of place at Wild Coyote Winery, 3775 Adelaida Rd. Paso Robles, or visit www.wildcoyote.biz for more information.
— Jamie Relth
Subscribe to weekly travel news
comments