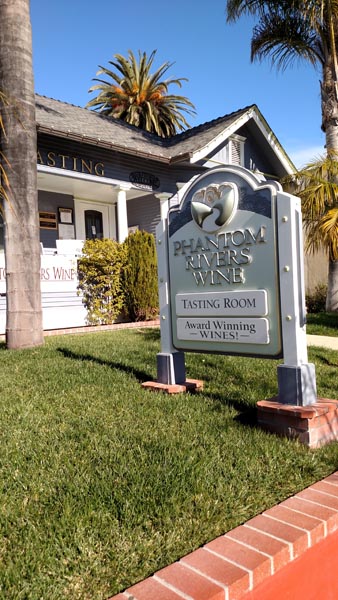 –San Luis Obispo County has become a popular destination for wine tasting. The hills are great for vineyards and there is no shortage of wineries to visit. Sometimes though, it's quite nice to go somewhere closer town. Somewhere that has nearby dining options and a comfortable atmosphere to make you feel at home. One such place is Phantom Rivers Wine, located in the Village of Arroyo Grande. There at the edge of town, the tasting room is open to locals and guests.
A stroll down the street can take you to the front door of a refurbished 100-year-old house. Inside is a cool tasting room, where you can see their award winning selection and sample a flight of wines to discover a new favorite. They have a variety of wines grown from different vineyards, to give each one a unique flavor. There are chardonnays, sauvignon blanc, viogniers, vin gris rose, cabernet sauvignon, grenache, malbec, merlot, mourvedre, pinot noir, syrah, zinfandel and blends available. Vertical flights are offered, to showcase how the same wine can change each year. The fogs that roll through the valleys and ancient river paths, contribute to the hang time of grapes on the vine. The complexities gained from the mists are the inspiration for the winery's name.
Phantom Rivers Wine tasting room was opened in 2008 by three couples who had an interest in wine. John Thunen, PhD, went from aerospace physicist to winemaker extraordinaire. Steve Mathis, President of the group, along with Linda Thunen, Sue Mathis, and Gary and Diana Smith take a hands-on approach to ensure great wines and even greater experience. Its "old town hospitality keeps things comfortable and fun." Not only is there seating outside, but there is also a small library. Antique chaise chairs offer the perfect place to savor a glass of wine and read a book.
Although they don't serve food, it's positioned right next to Branch Street Deli. Not only do they deliver to the Phantom Rivers, but you can enjoy a glass of fine wine on the porch and listen to the live entertainment on Friday evenings in the summer. A great time to visit is during happy hour on Mondays 4 p.m. to 5 p.m. and Fridays 5 p.m. to close, for a glass of any wine that is already opened, including the reserve wines, for six dollars. Or if a longer adventure is in mind, Phantom Rivers Wine is in the perfect location enter wine country and visit the other wineries in Arroyo Grande.
Phantom Rivers Wine is located at 211 E. Branch St. in Arroyo Grande. In winter (Nov. to May) they are open Saturday to Monday and Thursday from 12 p.m. to 5 p.m., Fridays 12 p.m. to 6 p.m. In summer (June to Oct.) hours are Sunday to Thursday 12 p.m. to 5 p.m., Friday 12 p.m. to 8 p.m., Saturday 12 p.m. to 6 p.m. For more information call (805)481-WINE or visit www.phantomrivers.com.
-Rachelle Tellez
comments