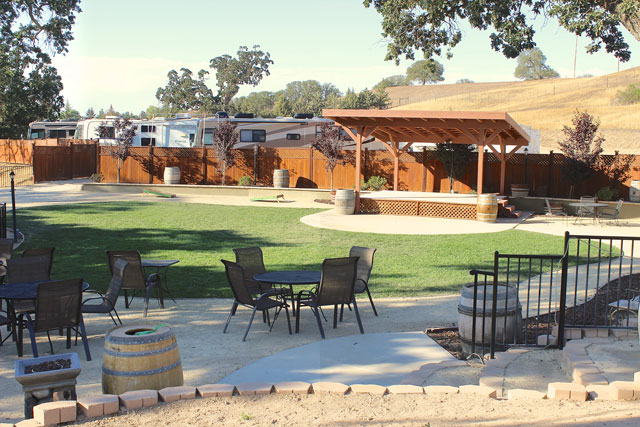 Vino and Vistas
Picture yourself sitting outside on a late autumn evening, feeling the wisp of a warm breeze on your bare arms, carrying with it the scent of earth…of vines. At your side, your Airstream plays mirror-mirror with the fairest dusk of them all – that of a dusk falling on the Central Coast countryside. In the distance, the sun slowly douses itself out in a bath of flamingo pink and fiery apricot. The citrus of sunset glistens through your sweating glass, filled with its own mild citrus: chilled and crisp peach and orange blossom, your favorite chardonnay.
Now this, you think to yourself, is why they call it wine country…
Ultimate camping for even the toughest critic
Vines RV Resort, a Paso Robles luxury campground and Sun Communities property, is somewhat of an undiscovered gem by many Central Coast virgins, and what they offer is a "suite" of a stay unlike many others: an exquisite blend of leisure, the outdoors, the comforts of luxury and amenities…and wine.
Nestled in the breezy calm of the Paso Robles hillsides, the resort offers temperatures perfect for swimming and a delightful view of lush, green grape vines. Visitors have access to on-site outdoor storage for RVs and boats, impeccable wash areas and showers
Ballrooms, wine, beer & billiards
There is not one, but there are actually two ballrooms on the Vines RV property. Called the Mulberry and Royal Oak Ballrooms, these banquet/event spaces can comfortably accommodate up to 100 guests each, with all of the elegance and detail you'd expect from a full-fledged ballroom, including kitchen and catering facilities, and a state-of-the-art sound system and projector screen.
Situated conveniently between the ballrooms is the Magnolia Lounge, which serves wine and beer refreshments, as well as billiards for your leisure. On some weekends, they offer live music.
A place to regain your 'cool'
If the heat causes more to sweat than just your wine glass, take a dip in the Vines pool. Surrounded by the calming scent of the magnolia trees that envelope it, the pool is the perfect place to relax. Adults 18 and older can also enjoy the comfort and convenience of a quieter pool sans splash-happy tots. But if you'd rather curl up indoors for a bit, the resort has a small library with beautiful wooden floor-to-ceiling bookcases, filled with books you can enjoy inside or take back to your RV-side lair.
For active individuals, or those whose slight excess of wine has them hankering for a date with the treadmill, the Vines' fitness center is situated right next to the pool and is air-conditioned for the comfort of guests wanting to get a few miles in or pump some iron. There's even a dog park, if your idea of exercise involves chasing a Labrador pup around in circles or playing a game of fetch or Frisbee.
Nearby activities
Not one who plans to stay put on the resort? Not a problem. If you're itching to explore, Vines RV Resort is within easy driving distance of sites like Hearst Castle, and a nearly infinite amount of local wineries, beaches, scenic hikes and trails, golf courses, and more.
Finally, in case you thought this place was missing something – or if you merely showed up missing something – you can pay a visit to the on-site General Store for coffee, snacks, supplies and almost anything else you might find yourself needing in the middle of this vineyard-oasis of the California landscape.
Yes, just imagine: all of life's simple pleasures in one place.
And when Vines RV Resort comes to mind, they hope you'll come to Paso Robles.
Vines RV Resort is located at 88 Wellsona Road in Paso Robles. For inquiries or to make a reservation, call (805) 467-2100 or visit www.SunRVResorts.com.
–Sarah Graybill
comments