Indulge your inner child and grown-up palate
Wine enthusiasts searching for an off-the-beaten track tasting adventure need look no further than the Union Road wine trail located just off Highway 46 East in Paso Robles. With its charming mixture of family farms, wineries and vineyards tucked neatly into the countryside, the backcountry road promises an "adventure around every curve."
Awaiting the traveler a few curves in is the magical Clautiere Vineyard, a 145-acre oasis that promises a transformative experience into the fun side of wine.
Visual delights & playful energy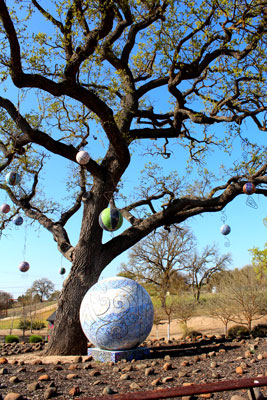 From the moment visitors enter the grounds they're treated to a visual delight. Ornate metal sculptures enliven the 230-foot entry fence while light-reflecting, mosaic-tiled spheres hang gently from an enormous oak tree. A glance in any direction along the winding garden pathways reveals one eclectic art piece after another, designed and crafted by artist Claudine Blackwell who, along with winemaker Terry Brady, co-owns Clautiere Vineyard.
The couple purchased the farm property in 1999 and, over time, converted the main house into a lively winery with a tasting room, a gift shop and a commercial kitchen. An old barn was renovated to become Club Clautiere – a large, inviting room with high ceilings and built-in stage and sound system for bands and entertainers. Along one wall, funhouse mirrors offer visitors stretched and squashed versions of their normal selves.
"Club Clautiere and the adjoining outdoor deck are both available to the public for large tasting groups and private parties," says Susan West, operation manager.
Clautiere's tasting room is bursting with playful energy, from the vibrant periwinkle-hued walls splashed with harlequinesque shapes and patterns to the black and white checkered floors. Whimsical decorations and artwork fill every nook and cranny, creating a happy atmosphere.
Award-winning wines & cheese pairings
The enthusiastic and knowledgeable staff adds to the tasting experience as they pour from Clautiere's collection of 100-percent estate grown Bordeaux & Rhone varietals, blends and ports. The Clautiere 2011 Estate Cabernet Sauvignon garnered a Gold medal at the 2014 Central Coast Wine Competition and the 2011 Estate Syrah earned Silver.
New this year to their wine line up is a 2012 Grenache Reserve and 2012 Malbec Reserve along with a 2012 Tempranillo and 2012 Mon Beau Rouge. Most exciting is an estate Sparkling Viognier made in the Méthode Champenoise, available in the fall.
"All of our wines are paired with gourmet cheeses from Vivant Fine Cheese," West said. A Paso Robles local favorite, Vivant cheeses can also be purchased directly from the winery. As visitors sip and swirl, the cheese pairings lend a unique perspective to each wine.
"Wine changes depending on what you're eating," West said. "This helps to show people what a wine tastes like on its own and paired with food."
West describes Clautiere wines as very food-friendly. "Our wines are made more in the European style with a little California flair," she said, adding that they're not as thin textured as European styles or as big and jammy as some California wines that may leave little room for food.
After a tasting, visitors are encouraged to step into the adjacent "playroom" where they can continue the fun by trying on eccentric hats and multicolored wigs. "We encourage people to find their child heart," West said.
Clautiere Vineyard is located at 1340 Penman Springs Road in Paso Robles. The tasting room is open Thursday through Monday; 12 – 5 p.m. and Tuesday and Wednesday by appointment. Visit clautiere.com or call (805) 237-3789 for more information.
— Cynthia Shaheen
comments