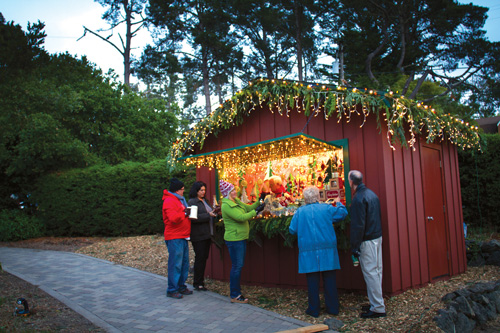 Holiday enchantment by the sea
A drive through the pine laden coastal town of Cambria at any time of the year can put one in the holiday mood but even more so when the season is upon us. This year a brand new event takes place there and it promises to be something spectacular for the whole family to enjoy.
It all starts on the weekend following Thanksgiving at Cambria Pines Lodge at 2905 Burton Drive with an old fashioned German Christmas Street Market. This free event follows the tradition started in Germany known as Christkindlmarkt , meaning Christ child market, and its history dates back into the late middle ages. These markets took place during the four weeks of Advent and eventually spread over Europe. German immigrants brought the celebration to the United States.
Starting on November 23rd, every Friday, Saturday, and Sunday until December 23rd, the Cambria Pines Lodge will continue this great tradition. The market will also be open on December 6th for Cambria's Hospitality Night.
Lodge owner Dirk Winter travels to Germany often and experienced the fun of these markets firsthand. That sparked an idea for him to have one in Cambria and where better to place it than on the beautiful wooded property of Cambria Pines Lodge. The Lodge puts on a fantastic lighting display every year during the holidays. "This year we are nearly doubling the amount of lights," commented George Marschall, Cambria Christmas Market Coordinator.  There will be lights in the trees, lights in the bushes, and whimsical figurines gracing the path through the property renamed Candy Cane Lane.
Candy Cane Lane starts at the Lodge and leads to the Cambria Nursery and Florist. People can enter the Lane from either end after parking at the Lodge or in the Nursery lot. For vendors there are 18 sturdy  wooden booths with pitched roofs covered in red and white striped material that carry out the Candy Cane Lane theme.
Four of the booths offer food and drink, some featuring delightful German specialty foods such as bratwurst on sourdough bread, hot German potato salad, chicken and veggie brats, cinnamon buns, and pastries. Two of the booths will belong to Linn's with their specialty items, soups, ollalieberry jams, gift baskets, and more. Alloccos' Bakery will also offer many of their wonderful baked goods as well as German pretzels.
At one of the booths Gluhwein, a traditional European hot spiced wine, will be served. "We have a lovely collectible translucent mug decorated with our logo and the year for folks to get their Gluhwein," Marschall said. "They can purchase the mug or return it after enjoying their drink."
Three fire pits grace the path at various places for people to gather around and there will be areas for people to sit and enjoy their food and drink.
Vendors will offer their wares in gaily decorated booths featuring handmade items, ornaments, toys, jewelry, woolen goods, candles, hand blown glass, and more.  "We are proud to say that all our vendors are from Cambria," Marschall commented.
One of the booths will house the artwork of Cambria resident Mary Elton Wilkerson. "Wilkerson creates incredible things out of driftwood," Marschall said. Indeed she does and she collects the pieces from Moonstone Beach. She also carves figures out of Bass wood. Her pieces are original and totally unique. Look for her carved and driftwood Santa and Snowmen ornaments to hang on your tree and Sea Angels for decoration.
Another interesting vendor is Ned McElwain who with his wife Bonnie owns "He Saw, She Saw" and makes distinctive urban wood art. The McElwains use recycled scrap wood to create intriguing shapes and art and will offer something "green" for your holidays.
"The best little bead store" in town, Cambria Beads will have a booth with beads, beads, beads and all the accessories.
Be sure to stop in at Cambria Nursery where you can choose a plant from their vast collection and check out the fabulous fully decorated Christmas trees and other gift items in the Gift Shop.
As you stroll along Candy Cane Lane you will be entertained by minstrels consisting of local children's choirs, church groups, and other entertainers. At the Lodge end of the Lane you will see Winter Wonderland glowing with blue lights. Of course, Santa will be here too waiting to hear from all the boys and girls so he can be sure to have all their Christmas wishes before returning to the North Pole.
Along with the vendor offerings there will be booths from local non-profits and clubs. These groups will be able to apply for a special $500 grant being awarded by the Cambria Christmas Market. Linn's Fruit Bin and the New Times join with the Cambria Pines Lodge sponsoring this delightful new event.
This newest holiday event on the Central Coast promises to be one of the most innovative shopping experiences of the season and you'll not want to miss it. This is a holiday celebration that is sure to come back year after year.
— Ruth Ann Angus
comments