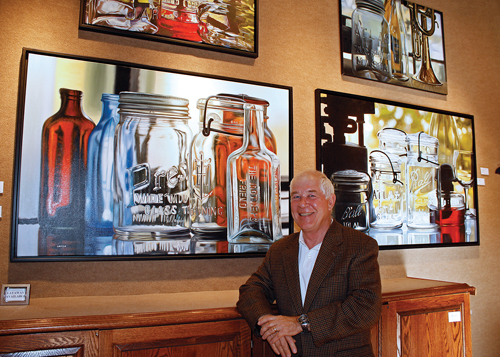 How did a folksy beach town like Pismo Beach end up having the best fine art gallery on the Central Coast? Tom Burgher, President and CEO of Seaside Gallery, has the answer to that.
Burgher may appear at first glance to be the most unlikely person to own an art gallery. He has a degree in physics and spent all of his working years in the aerospace industry with positions at Westinghouse, Northrop, and Raytheon. Along with these technical skills, Burgher also has a creative side and took up photography many years ago. "I guess I use both the right side and left side of my brain well," he joked.
"People told me I should do something with my photographs," he said, "so after visiting the Central Coast many times I found this gallery and brought my photography portfolio in to show Jeannine Smith, the owner at that time. Somehow in our conversation I mentioned that I thought it would be great to own a gallery when I retire. That was my undoing," he laughed. A few years later Burgher was called by the new gallery owner asking if he would be interested in buying the place. Burgher couldn't believe it. Apparently Smith had given Burgher's number to the person who bought the gallery from her. "I wasn't really ready as I had a few more years before retirement," he said, "but sometimes life presents you with an opportunity you can't turn down."
Burgher bought the gallery in 2008 and inherited the stock which at that time was made up of more gift type art for the tourist trade. "I wanted to make it a quality fine art gallery," he said. He realized that there really were no multiple artist fine art galleries between Laguna Beach in the south and Carmel in the north. "I saw an opportunity to make this a destination fine art gallery serving art collectors seeking significant art from artists with international reputations," he commented.
Purchasing a gallery at the start of the recession may seem like a foolhardy thing to do and Burgher laughed when asked what his wife, Sherie thought of the idea. "It was a great time to buy," he said, "but a terrible time to own." Still, it appears to be a success for the couple.
A walk through the gallery shows off, in individual sections that flow from one to the other, a variety of works and media. Seaside Gallery represents approximately 40 artists whose works are rotated throughout the 1200 square foot area thereby affording customers a good review of a body of work of each artist. "We have about 70% original oils, acrylics, sculpture and fine art photography," Burgher said, "and 30% high-quality giclees." The range of art covers impressionism, expressionism, abstract, and photo-realistic representational art.
Burgher retained a few of the artists that already were represented by the gallery and then set out to hand pick artists with a variety of styles and price points. Some of the better known artists showing their works are: Cao Yong, a Chinese-American artist, Leon Oks, a Ukrainian-American artist, Robert Copple, from California, Robert Richert, from Southern California, Sergey Bagramyan, an Armenian-American artist, and local artists Jayne Behman and Elaine Thompson
One area of the gallery is devoted to Western Art and Burgher holds the Slopoke Western Art Show every year. "We are the only gallery on the Central Coast that specializes in Western Art," Burgher commented. The pieces in this collection are vibrant and alive with historical scenes and classic cowboy and horses. The giclees of these images look like originals and are superb. Burgher would love to hold a Western Art Show at the yearly Taste of Pismo and is working with the Pismo Beach Chamber of Commerce and the City to hopefully achieve this.
"One of the things we'd also like to do is have a public arts program in Pismo," he said. "This would involve a sculpture show sponsored by the town with the city purchasing the sculpture voted best by the public." Plans would be for the entire show to be juried by a well-known sculpture artist with first, second and third place awards. These pieces would then go on display on the streets of the town. "Seaside Gallery would cooperate with the city on a project like this," Burgher said, "and the city and the gallery would retain a percentage."
Along with art and sculpture Seaside Gallery offers a line of beautifully crafted Rhythm Clocks that play 18 tunes (including some Christmas favorites), have lights, moving parts, and lovely wood trims.
Burgher said for the first few years while he still worked a full time job, he spent 50 to 60 hours a week working. "Now I am retired and run the gallery and I still work 50 to 60 hours a week!" Burgher is joined by his wife, Sherie, Vice President of Gallery Operations, Karen Peterson, Art Sales Associate, and Giovanna Schaefer, Sales Consultant.
"We are the Go To Fine Art Gallery on the Central Coast," Burgher said, "offering the best quality at more affordable prices." For collectors, art lovers, or just those who want to see fine art, Seaside Gallery will more than satisfy you.
Come to Pismo Beach and stop in and say hello – 580 Cypress St., theseasidegallery.com, (805) 773-8057.
— Ruth Ann Angus
comments