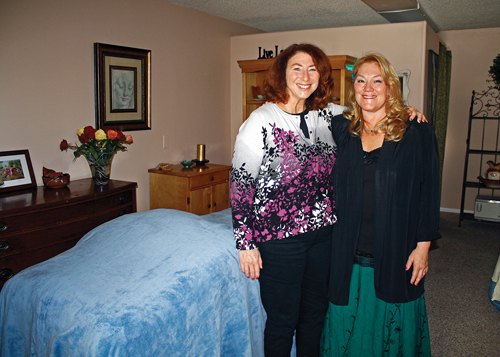 After a long day horseback riding or paddling the ocean blue in a kayak or even after a long stressful day in the office it's nice to know that there is a place one can go to soothe the aching muscles and calm the spirit. That's just what you will find at Therapy By The Sea in Cambria taking advantage of one of their many and varied massage therapies and spa facials.
"The most important thing for us is our attention to detail," commented Rhoda Paysnick, proprietor, "We treat each person as an individual with individual needs."
Paysnick came to her own business after working as a Physical Therapy Assistant at Twin Cities Hospital. She holds a Bachelor of Science degree in Kinesiology from Humboldt State University and is a licensed massage therapist. Paysnick has three massage therapists at the business. "Everyone here is a licensed massage therapist," Paysnick said, "and we all continue to study new techniques." Paysnick also studied Spa therapies for Face and Body at the California Holistic Institute.
The place is located at 816 Main Street on the second floor and you will find the entrance just around the corner and up one flight of stairs. As soon as you enter you are transported with a sense of calm in the peaceful, intimate space. Paysnick has two massage tables, a nicely appointed lobby and a dressing room. The massage tables appear soft and comfy. But if soft and comfy isn't what you desire, these talented people can deliver an intense session.
To begin with clients fill out an intake form indicating their personal health history including everything from injuries, allergies, and a variety of health problems. Paysnick is careful to indicate in a disclaimer that massage therapy is not a substitute for medical care.
"I believe we offer the best value for the dollar," Paysnick said when explaining their five-star massage, the Signature Massage that is a full body massage with light to medium pressure that will relax, revitalize and rejuvenate you. This massage brings together a variety of techniques including warm stone and aromatherapy. "Our goal," she explained, "is to get the person in shape so they can take care of themselves."
Spa Facials are another element of luxurious treatment at Therapy By The Sea and they include the use of Yonka products from France. Facials involve deep cleansing, exfoliation, and masques but are not invasive.
Another nice thing that is offered by Paysnick is an affiliation she has with a variety of area businesses that offer discounts and complimentary items to her clients. A few of those are Cambria Beads, Maddie Mae's Pet Pantry, Moonstone Cellars, and Cambria Beer Company. A list of all who participate is given to each customer.
She also offers package deals for two people that include a choice of massages and facials and gives customers coupons for dining at Robin's Restaurant or Madeline's Restaurant or tasting at Moonstone Cellars.
In some cases massage therapy is covered by certain health insurances if it is requested with a physician's prescription. "In other countries massage is used as a preventive," Paysnick commented, "but this hasn't occurred yet in the United States." She went on to say how massage is a wonderful way to improve circulation and that treatments such as Foot Reflexology uses techniques on certain points that are pathways to internal body systems. Reiki is another type of therapy attuning or balancing the chakras in the body from the head on down. "We all have electric energy within us," she explained, "and Reiki uses energy to bring about deep relaxation and to destroy energy blockages."
Therapy By The Sea has a variety of massages and facials for you to choose from for either a 60 minute or 90 minute session. Check out the full list on their web site at www.therapybythesea.com and give them a try!
— Ruth Ann Angus
comments