Olivas de Oro Grows olives of gold from century old trees
Frank and Marti Menacho began Olivas de Oro Olive Company in 1999 when they bought an orchard near Oroville, California. The trees on the property were old growth olive trees. While establishing their Northern California business, they searched for property on the Central Coast and, in 2007, bought acreage in Creston. They began the monumental task of uprooting 2,000 of the 103-year-old trees and moving them to the new location. Since then they have planted a 16-acre high-density Arbequina orchard, harvested in 2010.
Award-winning olive oils & more
The tasting room offers visitors the opportunity to try a variety of award-winning olive oils, vinegars and ranch products. Olivas de Oro produces three extra virgin olive oils and eight flavored olive oils including: Meyer Lemon, Basil, Rosemary, Mandarin Orange, Garlic, Red Chili Garlic, Cilantro Jalapeno and Habanero. The oils are cold pressed by pressing the fresh ingredient along with the olives rather than adding an extract afterward.
In addition, they offer balsamic vinegars, olives, and other ranch products with ingredients grown on the ranch. Grazing on the property is a flock of Katahdin sheep that are utilized to keep the grasses down. Grass-fed lamb, processed by a USDA butcher, is also for sale in the tasting room.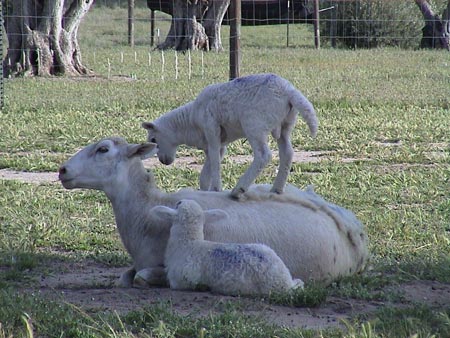 "Similar to a wine club, we offer two different olive oil club memberships. In one membership you are able to adopt an olive tree," Marti said. "The olive oil you receive will be made from your tree and the trees adjacent to it."
A completely refurbished and redecorated vacation rental includes three bedrooms, a full kitchen and dining area, and a large living room along with a sunken patio outside.
Visit Olivas de Oro at 4625 La Panza Road in Creston. Tasting Room hours: Friday-Monday 11 – 5; call (805) 227-4223 or check out www.olivasdeoro.com for more information.
Subscribe to weekly travel news
comments