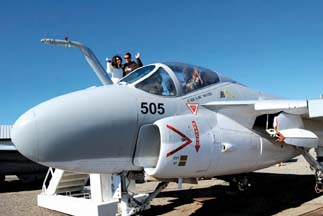 For all aviation and military buffs, the Estrella Warbirds Museum is a must see. With two dozen aircraft on display, the museum also has missiles, tanks, and other military vehicles and machinery, as well as military artifacts and paraphernalia and civilian artifacts kept by Civilians and military personnel during the wars.
Located on the southern end of the Paso Robles airport property, the museum is one of few "fly-in" or "drive-in" facilities in the country. The museum's primary goal is to "preserve, perpetuate and display American aviation history, especially that of our nation's military services." While the museum does not own flyable aircraft, many of the museum members own flyable WWII aircraft that are on display.
The Estrella Warbirds Museum always has something going on and has thematic displays that change at regular intervals throughout the year, so visitors can return and see something new. Museum curator Betty Miller says the museum has too many artifacts to display all at once so the displays are changed on a regular basis.
The museum has a real-life FA/18 Hornet Flight Simulator. It is available during most regular museum hours. Reservations may be made in advance or on a first-come basis if the time has not already been reserved. The simulator is for both pilots and non-pilots and simulates real time flight in the cockpit of an FA/18.
"It's beyond cool," says Peter Visel, who runs the flight simulator. "It's a real simulator that came from the Lemoore Naval Air Station. So you get the real feel of being in a cockpit. There's no pilot's license required."
The flight simulator, that costs $15 for a half-hour, is available for people of all ages. For those too young or too short, they might have to sit on a cushion and may not get the complete experience of being in an aircraft.
Visel says the simulator has multiple modes, such as peace time and combat, day or night, limited visibility, take off and landing, at 35 different locations.
Miller says an hour and a half might not be enough time for your visit. With as much as the museum has to offer with the indoor and outdoor displays, audio/visual room to watch videos, and the flight simulator, one could easily spend half a day or more at the museum. "It's not a 45-minute trip," Miller says
The museum is open Fridays and Saturdays from 10 a.m. to 4 p.m. and on Sundays from noon to 4 p.m. For recorded information call (805) 227-0440 or visit their website at: www.ewarbirds.org.
Admission is $10 for adults, $5 for children 6-12, under 6 are free; $8 for students with ID and seniors 60+. Family max is $20. Active military are free.
Guided tours are also available for groups of 10 or more Monday through Wednesday by appointment. Group tours must be reserved seven days in advance. Call (805) 466-1212 to make a reservation.
To get there, take Airport Road, north from Hwy. 46 East in Paso Robles and turn right on Dry Creek Road.
New automobile display:
Be sure to check out the newly completed 5000 square foot
Woodland Automobile Display Building. This exhibit features a rotating historical collection of vintage and classic vehicles. The initial displays have included NASCAR Sprint, Modified, SuperModified, Midget race cars, plus some unique quality classics seldom seen any more.
– By Heather Young
Subscribe to weekly travel news
comments