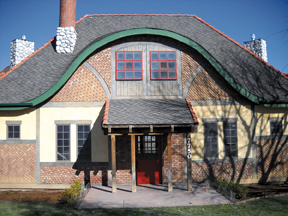 On the northern end of Paso Robles, the sun bears down a little hotter, and less rain saturates the soil. That may sound unpleasant for some, but at San Marcos Creek Vineyard, when life gives them heat, they make award winning Zinfandels.
"Zin grapes really thrive in the warmer climate," said Cathy Winter, who manages the tasting room and sales with her husband Brady Winter. "They get a big, jammy flavor that's really intense."
That flavor has received recognition in the form of shiny gold medals from the San Francisco Chronicle, the Long Beach Grand Cru, and the Central Coast Wine Competition. Their 2006 Estate Zinfandel was aged in oak barrels for over two years and blended with a Petite Sirah. The result? A dark, fruity flavor of black courant and plum that finishes with a hint of black licorice.
The bold Zinfandel taste goes great with smoky barbequed burgers or ribs, cementing it as a summer time hit. Knowing this, the winery hosts a number of parties and BBQs throughout the year on their 100 acre property. It's a stunning setting, complete with grassy picnic areas, a quaint tasting room, halcyon views of rolling hills, and a large duck pond.
"There are peacocks out there and bullfrogs the size of your head," said Cathy. "It's a great draw for kids, keeping them entertained while the adults relax and try some new wines."
In March, San Marcos Creek celebrates its anniversary and the local Zinfandel Festival by throwing the "Paella Patio Party" that features local musicians and takes place on the shaded patio, just out of the sun's often blazing reach. Paella is a flavorful Basque dish made of rice, veggies, and whatever meats the chef thinks will pair best with the wines.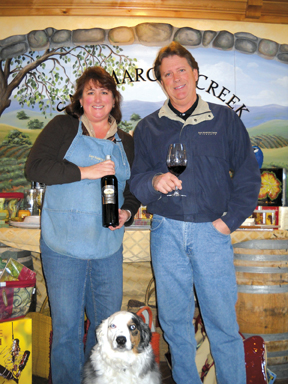 "It's great stuff, usually with chicken, some kind of spicy sausage and always with plenty of garlic," said Cathy. "Everybody has to eat it so there aren't complaints later about kissers with bad breath."
They also do "pick-up parties" for their wine club members, who get discounted shipments of six bottles, anywhere from two to four times per year. When the shipments are packaged and ready, members get invited to small but fun get-togethers that feature cheese pairings, good conversation, familiar faces, and lots of wine of course.
Everything they sell is "estate," meaning it was grown, pressed, fermented, and bottled on site, and they aren't at all limited to Zinfandels. Their Reserve Cabernet and Bordeaux blend have won gold medals at the Central Coast Wine Challenge. Most of their grape varietals are red, but one of their most popular wines is a mysterious White Merlot. A Best of Class award winner, two years running, this light pink wine is off-dry and fruity with peachy flavors that make the perfect cool refreshment for a hot day.
"We get pretty creative with our blends," said Cathy. "Our wine making is a team effort where everyone's input is taken into consideration."
The business was started roughly 20 years ago by Cathy's parents, Fling and Annette Traylor. They were looking for a peaceful but active retirement and found a new passion. At first, they only sold grapes to nearby wineries, but they soon found themselves building their own winery and tasting room modeled after architecture found in the French countryside. Their first bottle was produced in July of 2003. Shortly after, Cathy and Brady came on board to manage the books and tasting room, and now the estate produces up to 2,500 cases of wine every year and employs two full time vineyard workers and a handful of part time pourers in the tasting room.
"There's so much work that goes into wine making," said Cathy. "Being able to finally have the bottle in your hand and see the look on the customer's face is really remarkable."
Work is far from complete for the Traylors. They're putting the finishing touches on "Catherine's Cottage," a four bedroom, four bath building near the tasting room that they plan to open soon as a fully functioning bed and breakfast. Every room will have its own fireplace, and guests will get to enjoy a freshly cooked breakfast and evening time appetizers paired with wine. Keep it in mind for a romantic getaway you and your partner won't forget.
San Marcos Creek is located right off of Highway 101, which means travelers don't have to go out of their way to taste some of the best wines Paso Robles has to offer. Cathy said she gets a good mix of wine tasting connoisseurs, complete novices, and everything in between. If you're inexperienced in the ways of wine and are looking for a quick tasting instead of an all day wine adventure, this might be the place for you.
Cathy tries to help people with the three S's of wine tasting: swirl, smell, and savor. There's no need to feel embarrassed if you don't know what to look for or talk about. Cathy, Brady or one of the other pourers will guide you through the whole process, even if can't tell a Cabernet from a Chardonnay and have no idea that wine can have "legs."
"Just relax and have fun with it," said Cathy. "The only thing you need to know is whether you like it or not."
To see whether you like it or not, stop by San Marcos Creek Vineyard at 7750 North Highway 101 as you head into or out of the area. For more information or to become a wine club member, call (805) 467-9260.
– Nick Powell
Subscribe to weekly travel news
comments