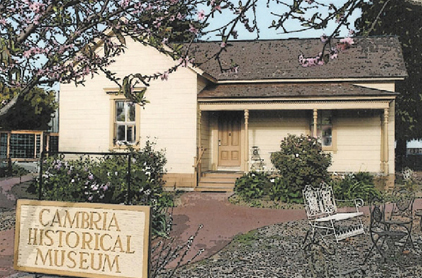 One of Cambria's oldest homes is the Guthrie-Bianchini House, built in 1870 by Thomas Clendinen. After 50 years in probate, the house was purchased by the Cambria Historical Society in 2001 and the renovation began. Now the home of the historical museum, this lovely old building sits of the corner of Burton Drive and Center Street in Cambria's Historic East Village.
Sharing Cambria's heritage is an important mission of the Cambria Historical Society. For one thing, that heritage belongs to you. With help from the community and visitors to Cambria, we purchased and restored the Guthrie-Bianchini House as Cambria's museum of history for everyone, young and old, to explore and enjoy. Come in and meet the pioneers who have inspired us with the tenacity and energy that reflects America's heritage and values. The docents and exhibits will take you on a fascinating journey.
The Cambria Historical Museum is located in the heart of Cambria's East Village at 2251 Center Street. Museum hours are Friday-Sunday, 1p.m.-4p.m., Monday, 10a.m.-1p.m. Tour this historic home, learn from the exhibits and relax in the garden. The museum, and Cambria's history, is yours to enjoy.
Subscribe to weekly travel news
comments