High quality estate wines at affordable prices
Castoro Cellars, which has been making wine in Paso Robles since 1983, was started by husband and wife Niels and Bimmer Udsen. Niels studied Ag Business at Cal Poly San Luis Obispo. According to Bimmer, "When Niels graduated, he wasn't sure exactly what he wanted to do, but the wine industry seemed appealing." He started working at Estrella River Winery, and says Bimmer, "immediately fell in love with the wine business."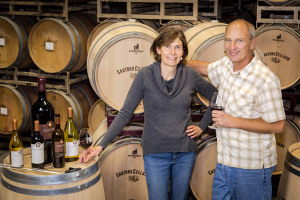 Over time Niels began making his own wine, which he and Bimmer would sell to friends and family. This eventually led to Niels and Bimmer starting Castoro Cellars, which now produces around 30,000 cases annually. "Ending up in Paso Robles was truly a blessing as the region has grown immensely since Castoro Cellars began making wines," says Bimmer.
In the beginning Niels made the wines but as the winery grew he decided to hire a trained winemaker. Tom Myers has now been Castoro's winemaker for roughly 25 years and has known Niels and Bimmer for over 30 years. Before working together at Castoro Cellars, Niels worked under Tom at Estrella and the two were also avid climbing companions.
Bimmer says that while many visitors think of Zinfandel when they think of Castoro, they are also "known for growing and producing a wide variety of wines. We grow just about all of the grapes used to produce our wines, with select grapes coming from vineyards other than our own."
Castoro produces Chardonnay, Sauvignon Blanc, Pinot Grigio, Muscat Canelli, Viognier, Marsanne, Gewürztraminer, Pinot Noir, Merlot, Cabernet Sauvignon, Cabernet Franc, Syrah, Petite Sirah, Malbec, Tempranillo, Primitivo, Rousanne, Barbera, Petite Verdot, Zinfandel and White Zinfandel.
For Niels and Bimmer, the way they run their company reflects their own values. Bimmer says, "We believe good wine should be accessible to all people and our wines exemplify this value. We make high quality estate wines at a very affordable price. We are also heavily invested in organic and sustainable agriculture with over 300 acres certified organic." Having Myers as the Winemaker for 20-plus years, combined with the involvement of its founders, has helped make Castoro a consistent presence in the wine industry that has witnessed continual growth in Paso Robles in recent years.
Visitors to the Castoro Cellars tasting room can expect a 150 foot grape arbor leading visitors to the Mediterranean style gardens with picnic tables and gorgeous vineyard views. With 14-16 wines on the tasting menu at a time, there truly is "something for everyone" at Castoro. Throughout the year, Castoro hosts special events including evening concerts and daytime music on the outdoor stage; winter concerts are hosted in the events gallery.
Niels and Bimmer Udsen have grown a hobby into a family-owned winery that has been a cornerstone of the Paso Robles wine industry for over 30 years – it's no wonder their motto is "Dam Fine Wine."
Castoro Cellars, located at 1315 North Bethel Road in Templeton, is open daily from 10 a.m.-5:30 p.m. For more information, call (805) 238-0725, visit castorocellars.com or find Castoro on Facebook and Twitter.
–Kate Joyce
comments