A brief chat with Marcy Eberle, General Partner at Eberle Winery along with Gary Eberle, will reveal that Eberle's history is inextricably linked to the history of Paso Robles. After moving to Paso Robles in the late 1970s and helping to start Estrella River Winery—which is now named Meridian Vineyards—Gary helped to get the Paso Robles AVA named in 1980. A few years later he founded Eberle Winery.
Indulge in fruit-forward, award-winning wines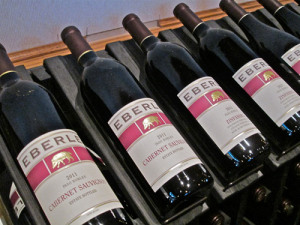 "I love greeting people," says Gary Eberle seated on the terrace at Eberle Winery in Paso Robles. Dressed in his usual shorts and T-shirt with his standard poodles, Sangiovese and Roussanne, romping around, Eberle is the founder and face of this eponymous winery.
Eberle made his mark in the region by pioneering Syrah plantings in the early 1970s and co-founding the Paso Robles appellation established in 1980. He is also amongst the few local vintners who can be seen in the tasting room greeting visitors.
"If I'm in town, I'm here seven days a week," says Eberle. When he's not in town, he spends a good portion of time traveling nationally and internationally promoting his wines.
A former college football player at Penn State, Eberle was headed for medical research before he discovered the joys of being a winemaker. He founded his first winery in 1979 and enjoys food as much as wine and people. If you are driving Highway 46 East and get a whiff of smoked meats, you can be sure Gary, wine glass in hand, is behind the outdoor grill cooking sausages and ribs. This is part of the allure for visitors here — complimentary food and wine tasting.
 Free wine tasting & cave tours
Eberle Winery is one of the few local wineries that offer wine tasting and tours free of charge. The fifteen-minute guided tour begins at the crush pad, and then takes visitors through the fermentation room and the 1600-square-foot dark, damp cave. The tour ends in the tasting room decorated with numerous awards and medals.
"This is one of the best things we have going for us" says Eberle of the popular cave tour conducted every 30 minutes, "You have to give the people a reason to remember you and a reason to buy your wine."
 Fruit-forward, award-winning wines
The friendly staff is ready to serve the first five pours at no charge. Made by winemaker Ben Mayo, the wines are fruit-forward and approachable but also have aging potential such as the complex Cabernet Sauvignons and the richly textured Syrahs. The 2012 100% Estate Cabernet is produced from the estate's thirty-year-old vines and is expressive of chocolate and cherry notes.
Among the red wine lineup, there's the 2010 Barbera, a Gold Medal winner at the New World International competition. The 2010 Côtes-du-Rôbles Rouge, a blend of Mourvèdre, Syrah, Grenache and Durif, is another Gold Medal winner at the LA International wine competition. Eberle is also noted for richly textured Zinfandel and a Sangiovese redolent with hints of raspberry.
Among the whites, the 2013 Estate Chardonnay is aromatic with green apple notes. The 2013 Viognier is fragrant with hints of honeysuckle and apricots. Expressive of floral and herbaceous notes, the 2012 Côtes-du Rôbles Blanc is a blend of Viognier, Genache Blanc and Roussanne.
Eberle, who's been in the wine industry for some 45 years, reflects on meeting Napa Valley's pioneer, the late Robert Mondavi. "I learned a lot from him and we got along well – he taught me how to be P.T. Barnum," recalls Eberle.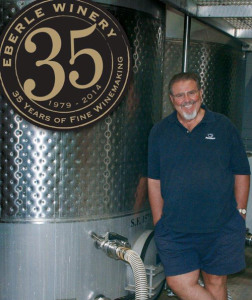 The ever-affable host
As Eberle takes time to chat with visitors, he talks about the wines, his poodles, or the iconic boar sculpture at the entrance. The boar symbol pays homage to his roots – Eberle in German means "small boar" – and the coins collected in the boar fountain, along with funds from other activities such as the Halloween Haunted Cave tours, are donated to local children's charities.
"I'm a firm believer in the good nature of people. "If you treat them as guests, they reciprocate," says the affable vintner.
Eberle Winery, located at 3810 East Highway 46 in Paso Robles, is open daily from 10 a.m. to 5 p.m. Winery tours every 30 minutes from 10.30 a.m. to 5 pm. For more information and news on special events, call (805) 238-9607 or visit www.eberlewinery.com.
– Mira Advani Honeycutt
comments